There are a variety of votive candle holders that are available in the market. You can order customized candle holders or choose from the off-the-shelf candle holders to decorate your home or office. Ready-made votive candle holders are suitable for general needs. However, if you are keen to provide a personalized touch to your décor on your own, you can choose to paint your votive candle holders yourself.
If you want a quick and easy craft project that takes only a couple of hours to complete, try one of these DIY candle holder ideas.
How to Paint Glass Candle Holders in Your Favorite Style
All you need to address this candle holder idea is some inexpensive glass candle holders or small glasses, paint, and paintbrush. There are several different kinds of paints that you can use to paint outside of glass candle holders: acrylic, metallic, and latex paint. Depending upon the type of paint, you may need 2-3 coats to get the smooth finish.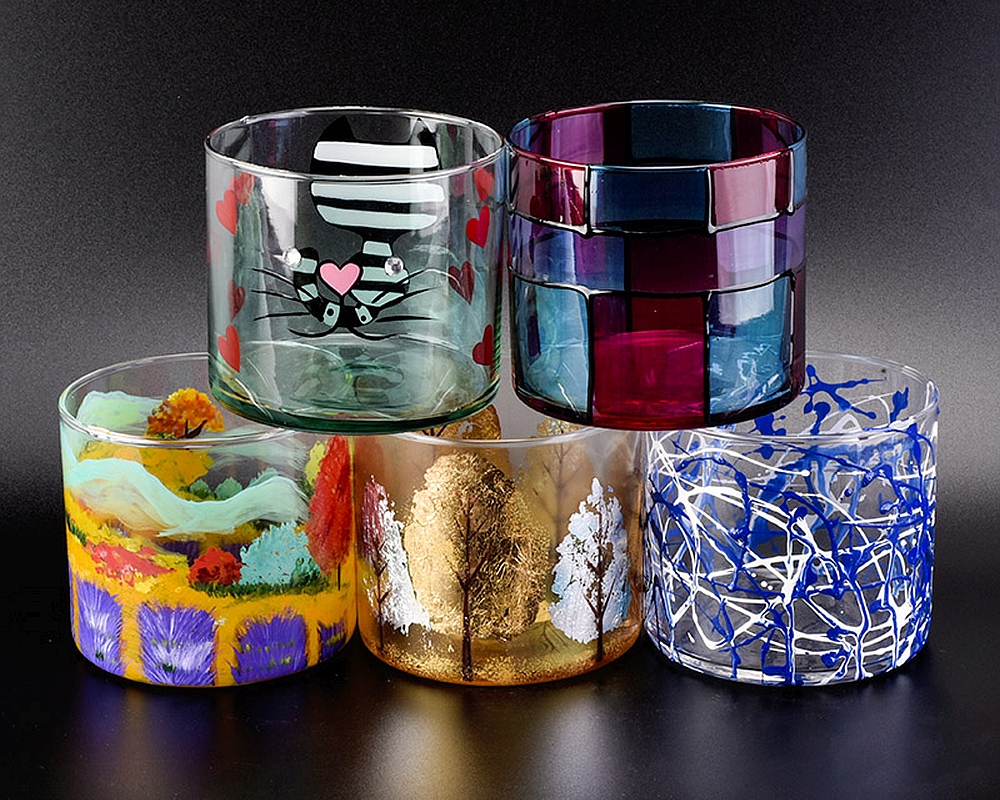 You will need opaque paint if you want to draw any pattern on the exteriors. Make small brush strokes in wet paint to create the design of your liking. If you are not good at drawing, use ready-made paper templates to draw the floral pattern. Cut the floral design from the tracing paper and put it inside the glass with the pattern facing outside of the glass. Paint within the pattern with the paintbrush and let it dry. Once dried, you get a nice-looking pattern on the outer surface of the glass.
Spray Paint Metal Votive Candle Holders from Dollar Store
Candlesticks brought from the dollar store are cheap, but you need to work on them a little bit to make them look chic and trendy. You can revitalize these inexpensive finds using spray paint. The problem is often with the finish and color and not with the metal as such.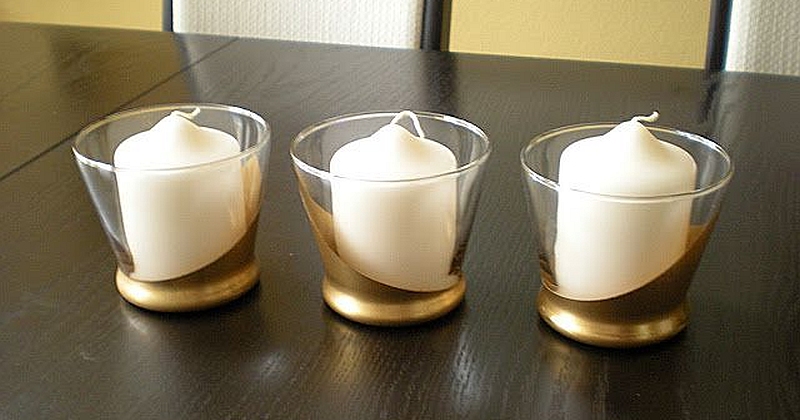 After acquiring metal votive candle holders, the first thing to do is to clean them with a paper towel and rubbing alcohol. Apply a good primer coat to the votive candle holders that will stick and not run. Let the primer dry for 15 minutes, and then apply another coat. Apply a total of 3 coats, each after a gap of 15 minutes. When you are through with the coats, let the primer dry for at least 12 hours. Spray paint of your choice on each candlestick and let it dry. Apply a coat of good rust protection gloss enamel for a nice glossy finish. After all the candleholders dry, apply a coat of premium enamel that provides a shiny look to the surface and protects it from household stains.
Transform Discarded Goblets and Glasses into Luminous Wonders
If you are not good at using a brush, you can simply collect glasses that already have patterns on them. Glass votives with wide tops are easy to paint from inside, but it is not possible to do so with glass holders with narrow tops. To paint narrow glass holders, simply pour the desired paint inside the holder and then swirl it. It is a good idea to use see-through paint inside of a glass votive. Fix a pre-waxed candle wick to the inside of each votive with glue dots. Pour melted soy wax inside your votives and then let them dry. Put pre-waxed candle wicks inside when the wax is still in a liquid state. Your personalized glass votive candle holder is ready.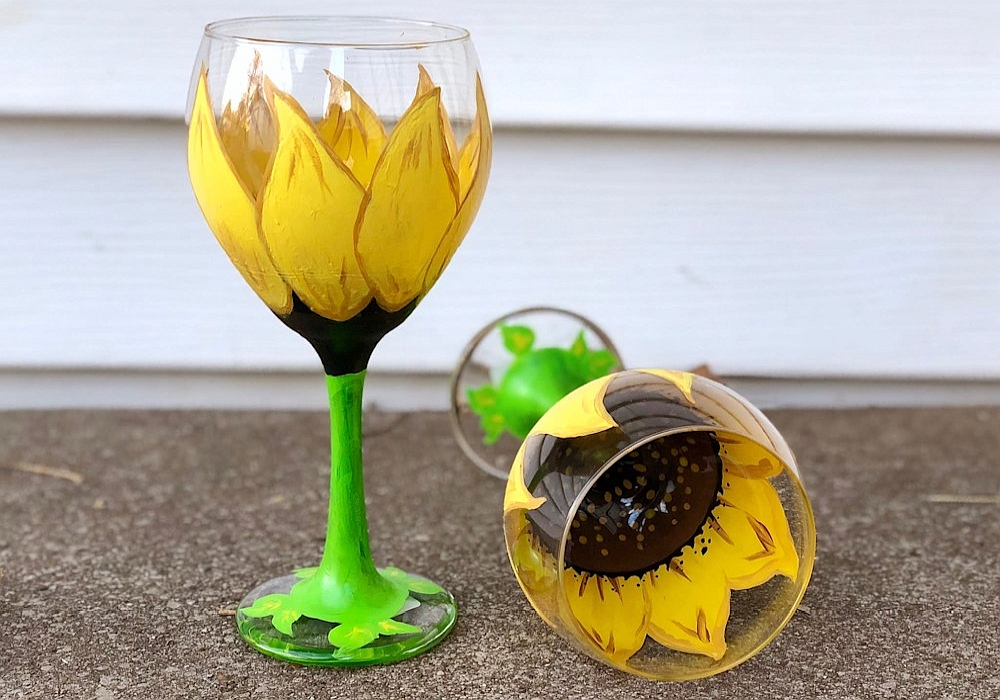 We have just listed some of the painting techniques you can use to obtain unique votive candle holders. There are several other ways that people use to paint votives. It is your turn to grab a few small glasses in your house and get creative.
How to Make a DIY Glittered Votive Candle Holder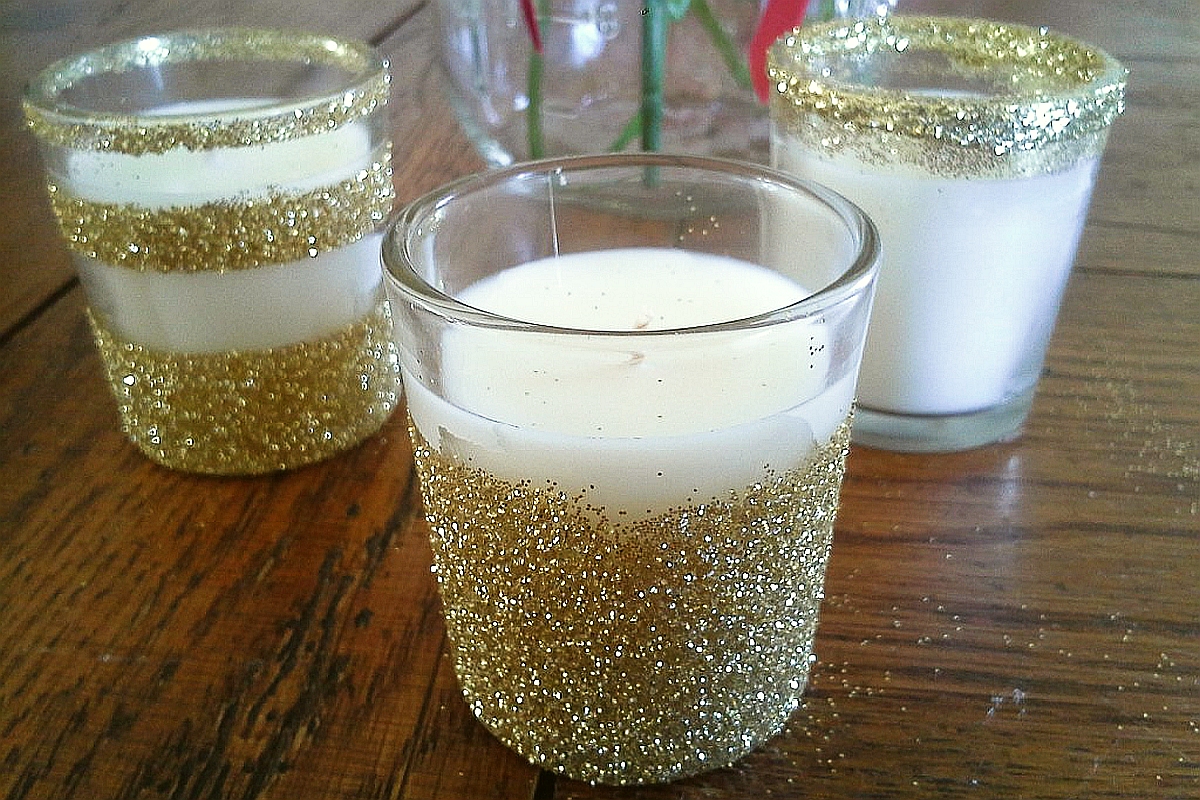 Let us explore how to convert simple votive candle holders into glitter painted votive candle holders that you can put on any table or centerpiece to capture instant attention.
Put the podge in any container and add the glitter of the desired color to it. Gently mix the solution. Now, grab the glass votive candle holder and turn it upside down on a table. With the help of a paintbrush, paint the glitter on it. You may need several layers of glitter to cover the entire votive. Let each coat of glitter dry for ten minutes before applying another coat.
Once you are through with all the layers of glitter, apply a few coats of metallic paint to the votive holder. When the paint dries, apply a super thick layer of white gesso to the votive. You might need one or two coats of gesso. When the gesso is dry, create a ring of the desired color at the top edge for a finished look. Your painted votive candle holder is ready with a colorful glitter from inside and a smooth white glow from outside. Grab a votive candle and put it inside. Light it to see the beautiful spark.
The above technique is very simple and can be used not only for glass but for any other material like metal or wood to create a votive candle holder of your choice.
How to Make a DIY Mercury Glass Votive Candle Holder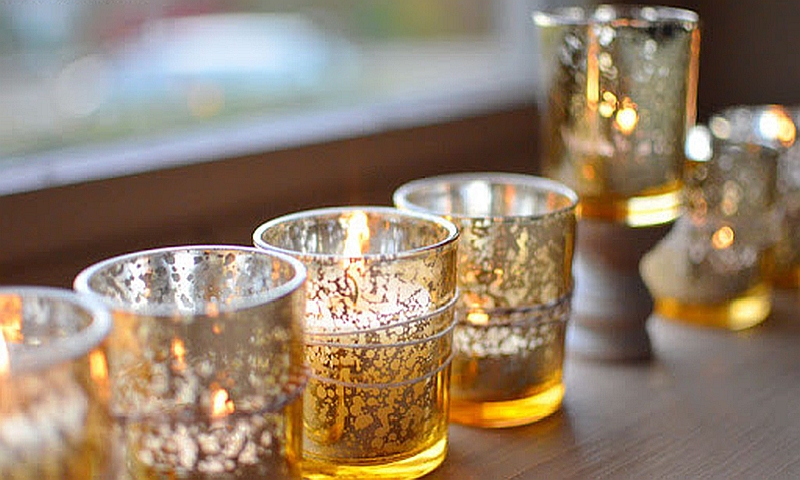 To create your own Mercury Glass Votive Candle Holder, you need a spray bottle with water. Fill the spray bottle with water. Make sure it's set to the mist setting. Lightly mist the inside of votive candle holder and let the drops of water form on the glass surface. Apply a coat of looking glass spray paint on the glass votive.
With left over paint,you can add some colour to glass votive candle holders to brighten up your out door living space pic.twitter.com/ZapE12wDxO

— EcoCoat Paint (@ecocoat) May 27, 2013
The water droplets would not allow the paint to stick to the glass and in the process creates a mercury glass finish. Clean the excess water and spray paint with the help of a sponge. You may have to apply several alternative coats of mist water and paint on the votive holder to attain the perfect metallic appearance.
Where to Buy Votive Candle Holders
You can purchase them online with high security and privacy. Votive candle holders make a great decorative piece or gifts for someone who is difficult to shop for.
DIY Painted Votive Candle Holders
Let's see some examples: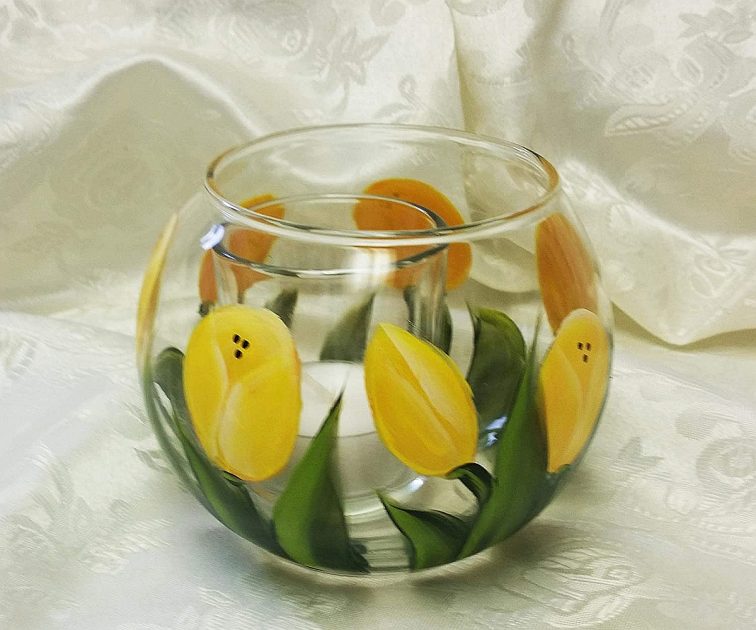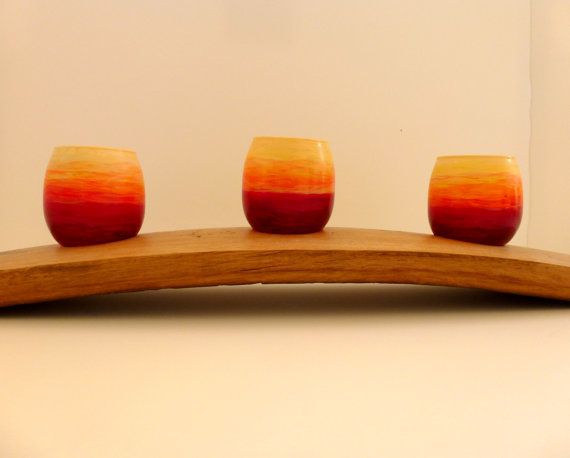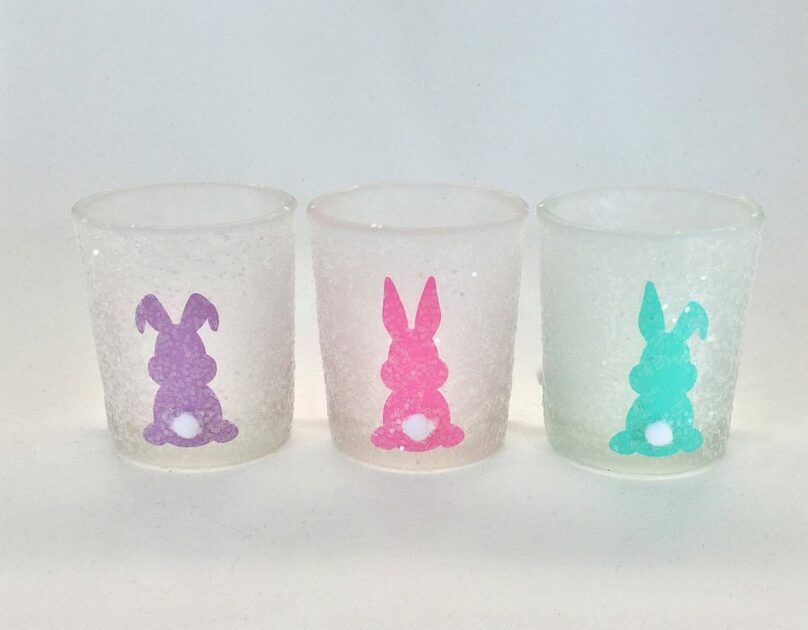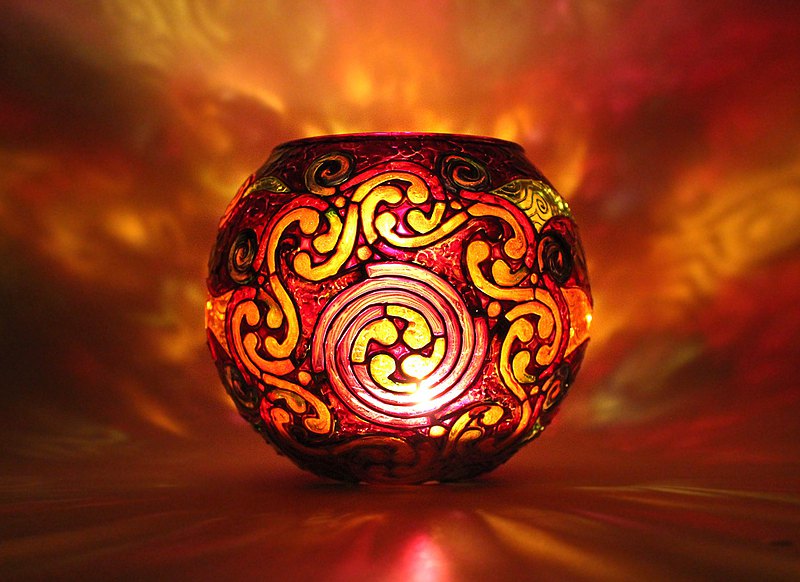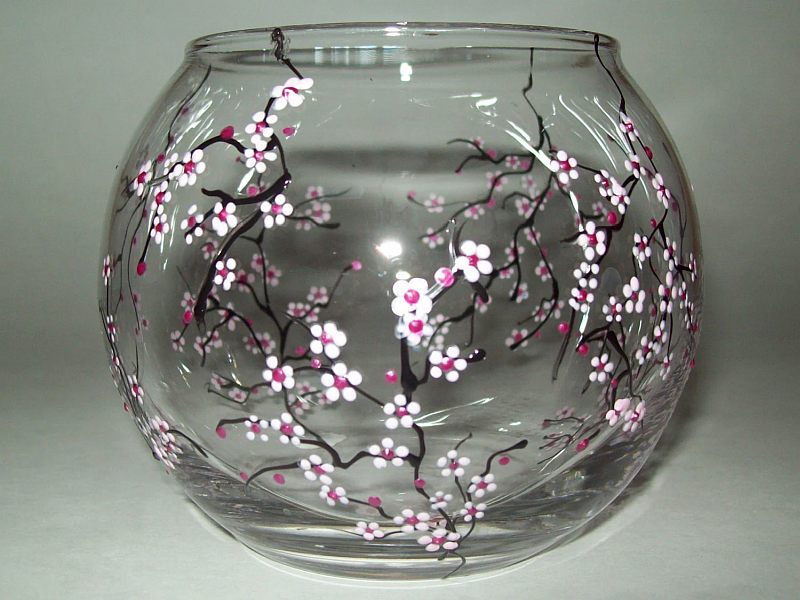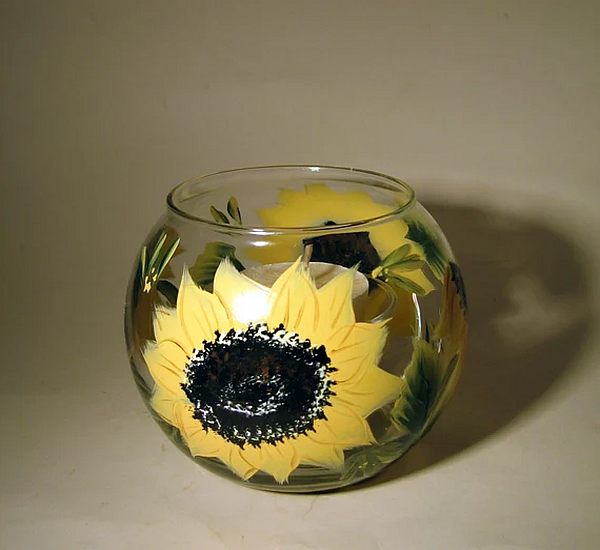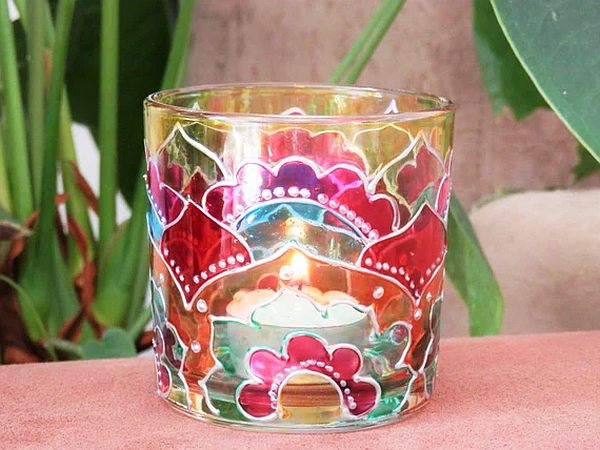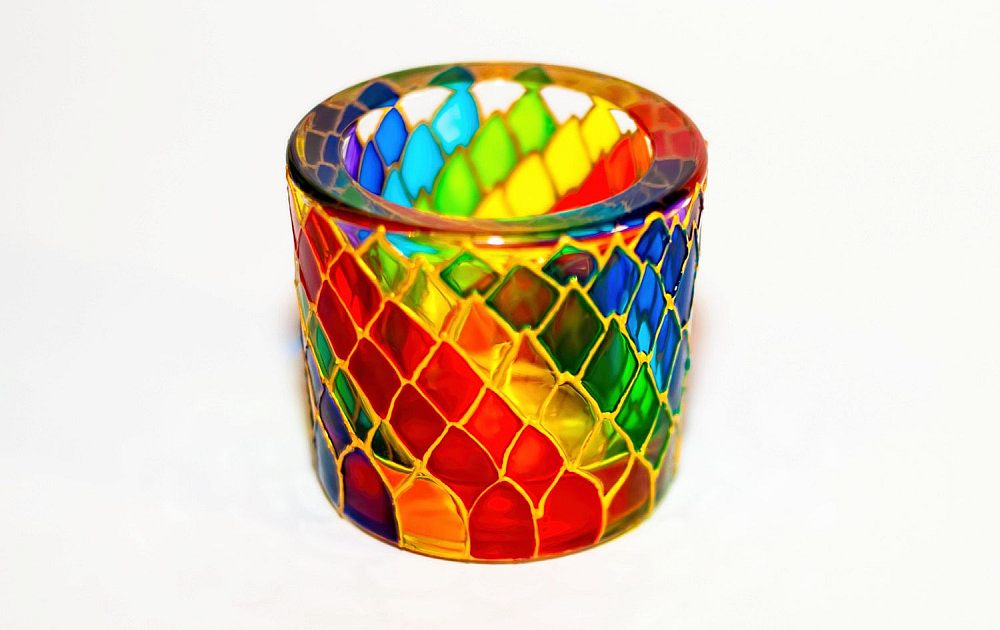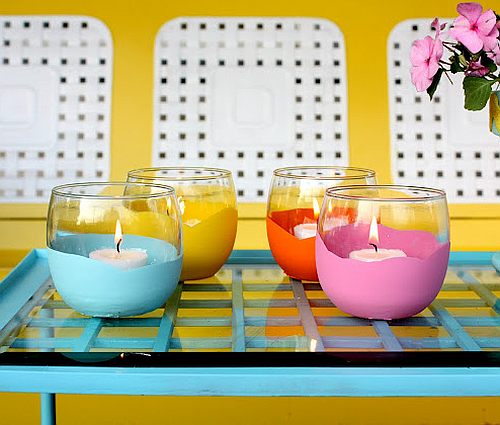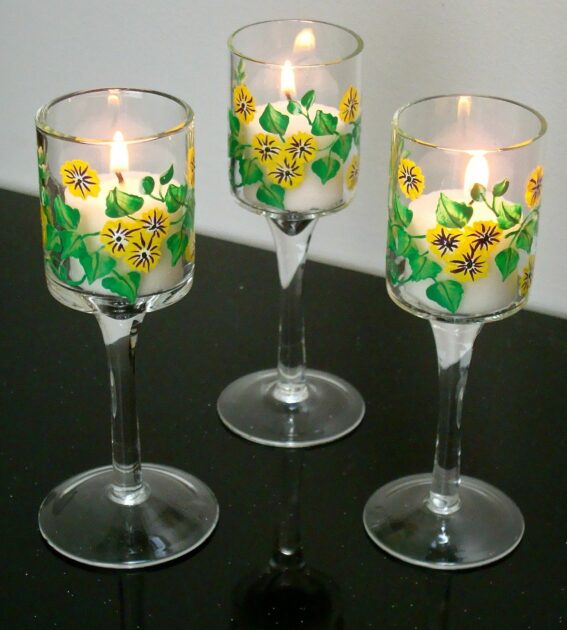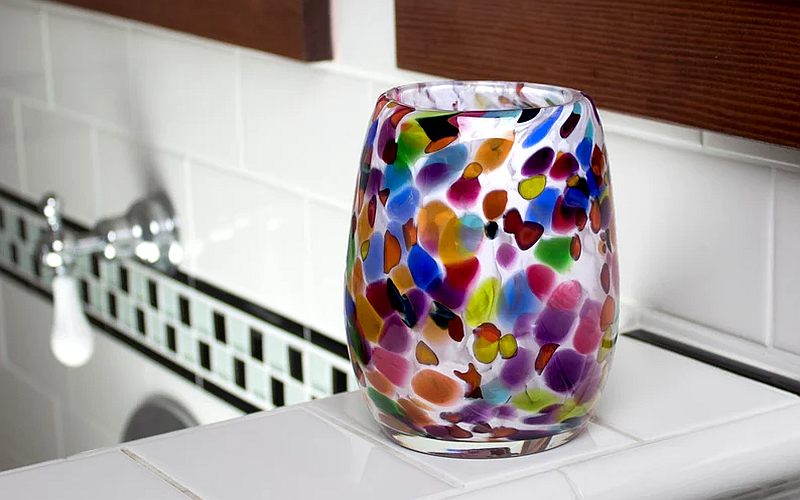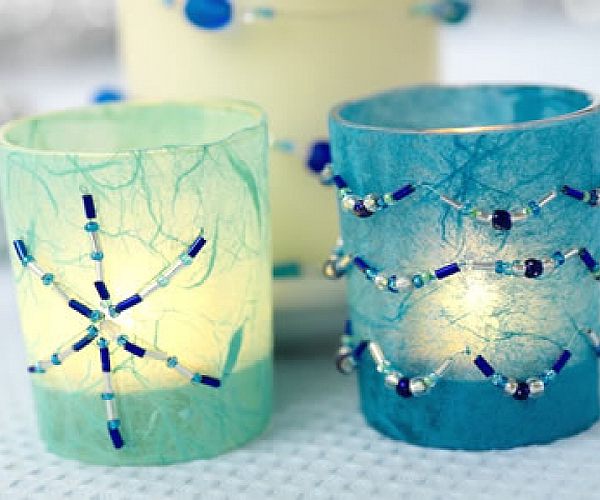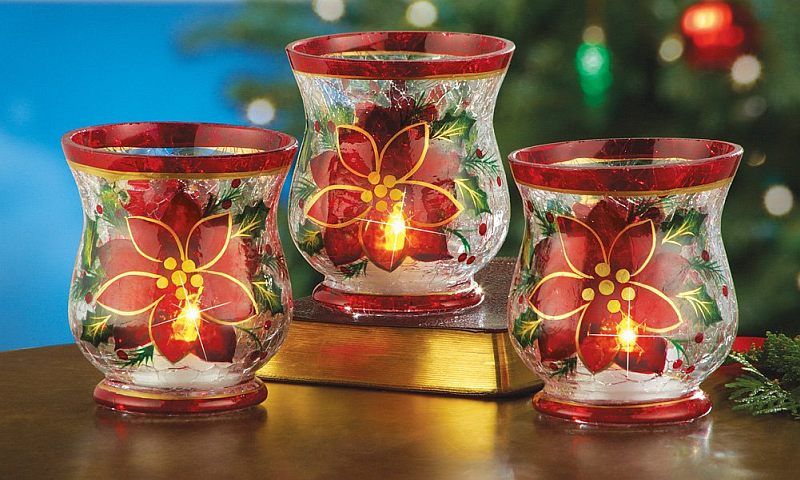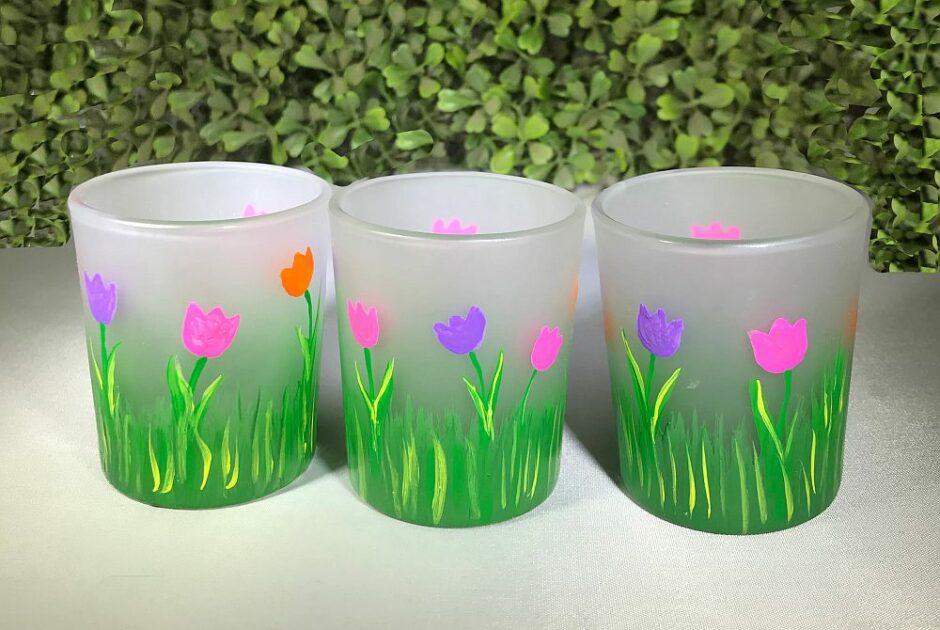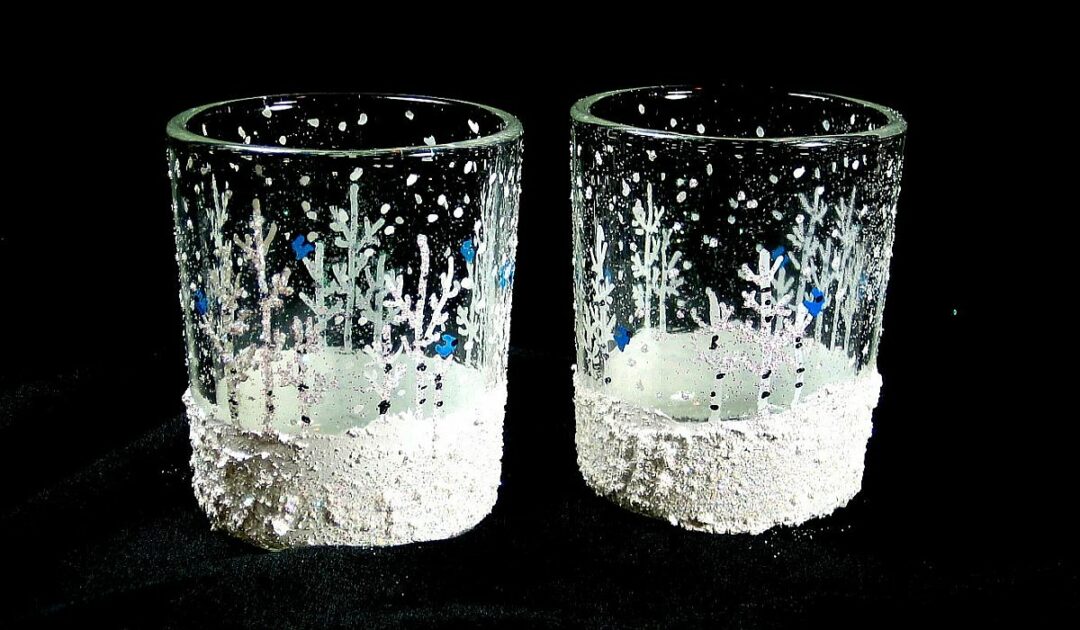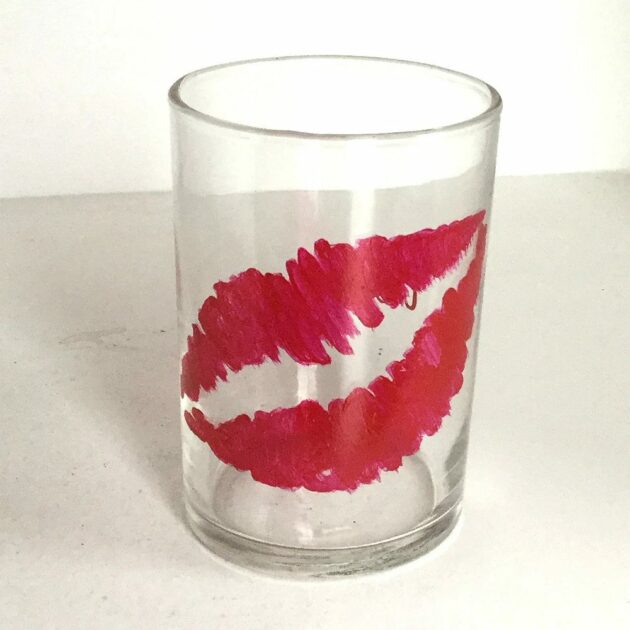 ---
Conclusion
So, it is time to take the paintbrush in your hand and paint the votive candle holders in red, blue, and green. With the above decorative tips, you can easily create glittering votive candle holders suitable for any occasion and any space. Painting your votive candle holders is an ingenious way of saving money and showcasing your artistic skills too.
People Also Ask:
How do you paint glass candlesticks?
Can you spray paint glass candle holders?
How to paint glass candle holders?
How to paint metal candle holders?