Candles are not only well known for their calming and healing properties but also serve as a simple and quick way to enhance your décor. These charming luminaries provide a radiant glow and stimulate memories by giving your space a strong identity.
Add Extra Ordinary Shine to your Interiors with Gold Votive Candle Holders.
The flickering allure gives luminance and sensuality that conventional lamps simply cannot replicate. Whether you want to add a touch of class and elegance to your merry moments, create a romantic and tranquil environment, or simply brighten up your dark and gloomy spaces, candles when placed in the right holders would serve the purpose best.
Gold Candle Holders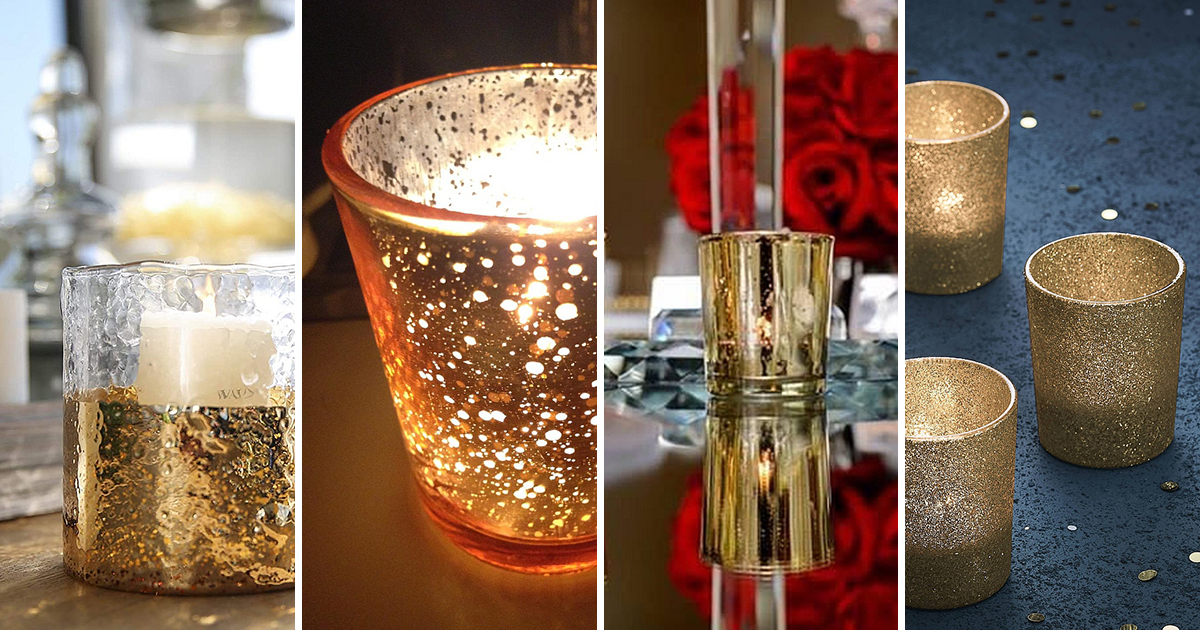 Candles are available in a variety of colors, shapes, sizes, and styles but votive candles stand out as one of the most popular and versatile ones on the market. The best way to keep your votives upright and give an elite visual appeal is to secure them in votive candle holders as these safety containers help you effortlessly showcase your candles without being tipped over and causing a fire.
Styles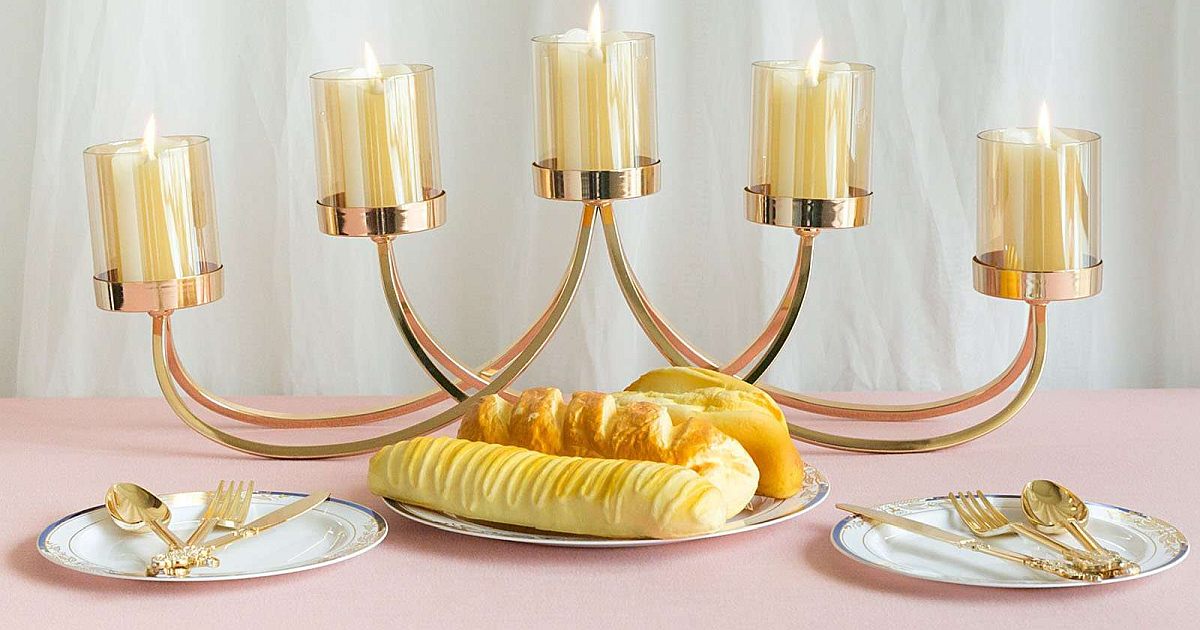 Add a glitzy touch to your simple dinner table, coffee table, and bare walls with a variety of gold votive candle holders and bring an instant glamorous sheen and a warm glow to your dull space.
Here are some of the most wanted types of gold votive candleholders that you should include in your decorations for that imperial feel.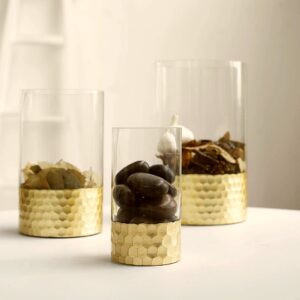 Clear Votive Candle Holders with Gold Base
Clear glass votive candle holders with gold bases can be used to elevate any celebration. Inspired by the minimalist design principle, these simple yet very beautiful candle holders are designed to emit powerful bright light without any hindrance. Fill these glass votive candle holders with a variety of battery-operated votive candles or wax candles for an elegant display of lights.
---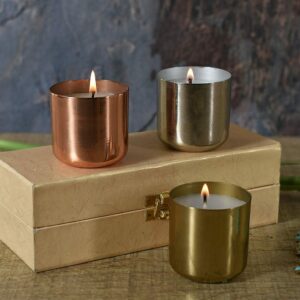 Metallic Gold Candle Holders
Stylish votive candle holders when paired with candles illustrate a spectacular show of class and luxury while adding warmth, coziness, and a soft glow to your spaces. Although the most preferred votive holders are the ones made of glass as they are heat resistant, durable, and easy to clean but if your décor demands intricate detailing, rustic appeal, and a sleek candle display, then metallic gold votive candle holders must be your ultimate choice. Made with glistening metal and available in ethnic and trendy designs, these classy holders offer durability to your votive candles and flamboyance to your entire ambiance.
---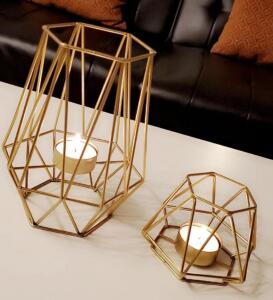 Tealight
Their availability in a variety of shapes and sizes make them the perfect choice for your votives and tea light candles.
---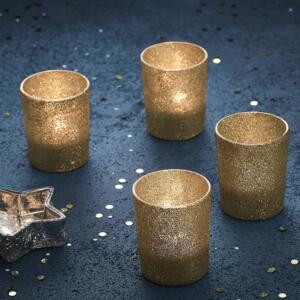 Gold Glitter
If you want to have a chic blend of vintage gold and shabby gorgeousness, then opt for gold glitter votive candle holders and pair them with other décor essentials, or display them as single statement pieces to add a touch of irrefutable allure to your candle décor elevating the grace of your space up by several notches.
---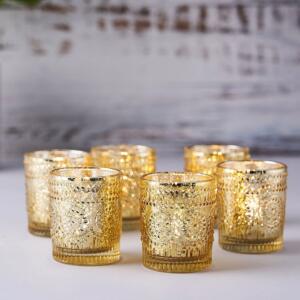 Gold-Flecked Mercury Votive Candle Holders
Clear glass votives are converted into mercury glass votive candle holders with the help of mirror spray paint. The water droplets are first generated inside the votives to provide a mist effect and then immediately the votives are treated with spray paint to form the antique mercury glass votive holders for a timeless look.  These beautiful gold mercury glass votive candle holders are perfect for weddings, formal dinner settings, or any other large formal occasion. They also make a perfect housewarming gift and can be given as party favors to your guests at the end of any celebration.
---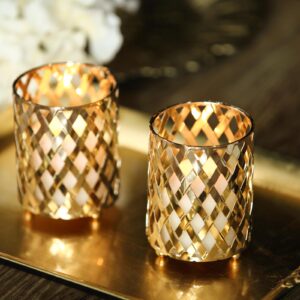 Gold Plated Tealight Votive Candle Holders
There is no better view than the sight of small tea lights inside gold-plated crystal votive candle holders. Whereas, high-quality metal votive candle holders electroplated with gold will add a warm ambiance to your event tablescapes. The gold finish exudes a lustrous allure and also protects it from corrosion.
---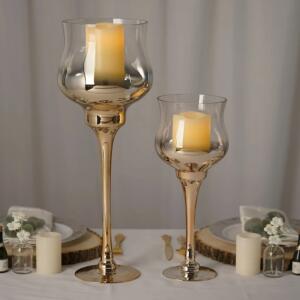 Long-Stem
Stemmed glass and gold votive candle holders will beautify your home and make it more impressive in front of your family and your friends.
---
Mercury Glass and Gold
Made with the finest quality mercury glass and gold finishing, these majestic pieces of art make the most romantic and enchanting centerpieces for wedding tables.
---

Rose Gold Votive Candle Holders
Votive candle holders with rose gold finish are great for Halloween decorating, Thanksgiving dinner and Christmas holiday. They are elegant, yet seasonal votive holder candles.
---
Shapes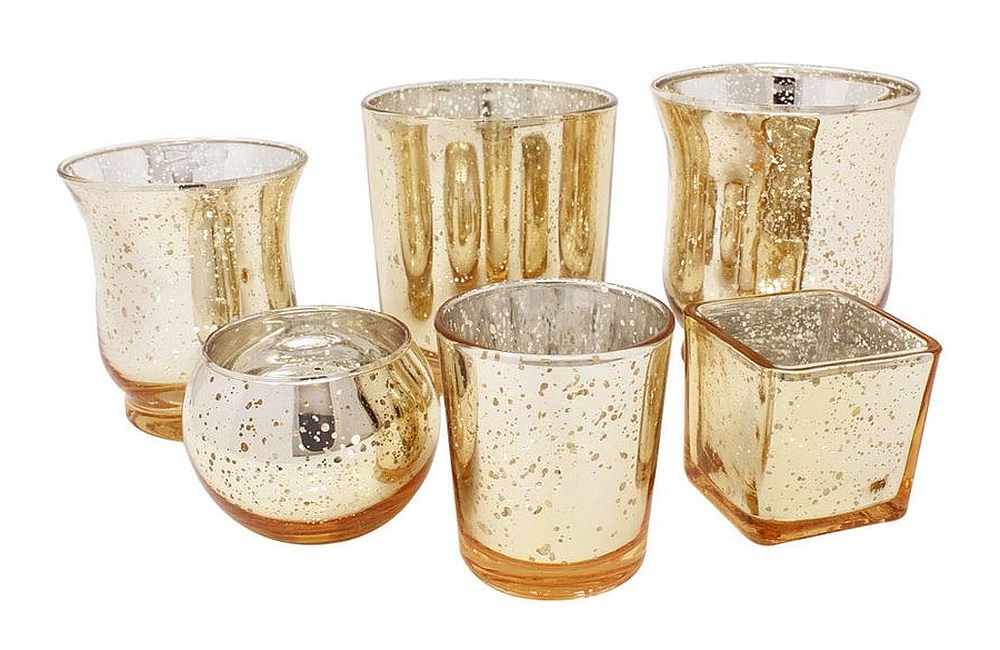 They are available in a variety of designs and materials but the most preferred ones are gold votive candle holders as they complement any décor style with class and sophistication. Keep on reading for some stylish and trendy inspirations to add an extravagant touch to your space by incorporating trendy and premium quality gold votive holders into your décor details.
Geometric
Modern votive candle holders are available in various geometric designs such as hexagon, cone, pyramid, and sphere. These candle holders exhibit exquisite workmanship. When electroplated with gold, these candle holders attain a textured lustre that is hard to resist. Gold geometric votive candle holders are not just candle holders but rare ornaments for special occasions like weddings, candlelight dinners, anniversaries and baby showers.
---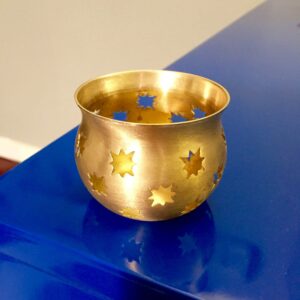 Round
Be a hit at your next party or event with round gold votive candle holders!
---
Square
They add a beautiful glow to any room.
---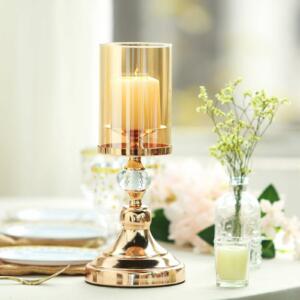 Pillar
Whether you prefer to bring a personal style to your home, or have always been drawn to the beauty of candles, these pillar gold votive candle holders are the perfect gift.
---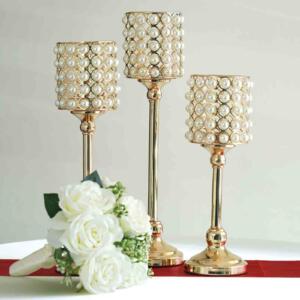 Tall
If you are looking to create a sumptuous and highly majestic candle display, then check out tall votive candle holders to add height and dimension with glamorous illumination that will turn your simple décor into an exotic extravagance of glow and sparkle.
---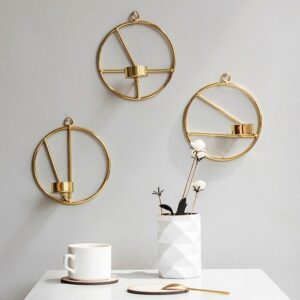 Wall
Wall-mounted gold votive candle holders are a beautiful addition to your home décor and are easy to install.
---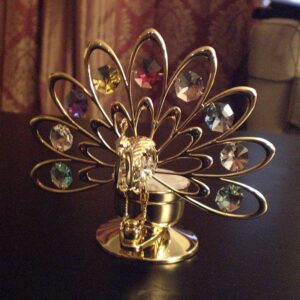 Decorative
Add an elegant and stylish decorative accent to your living room, dining room, kitchen or bedroom.
---
Gold Candle Holders Sizes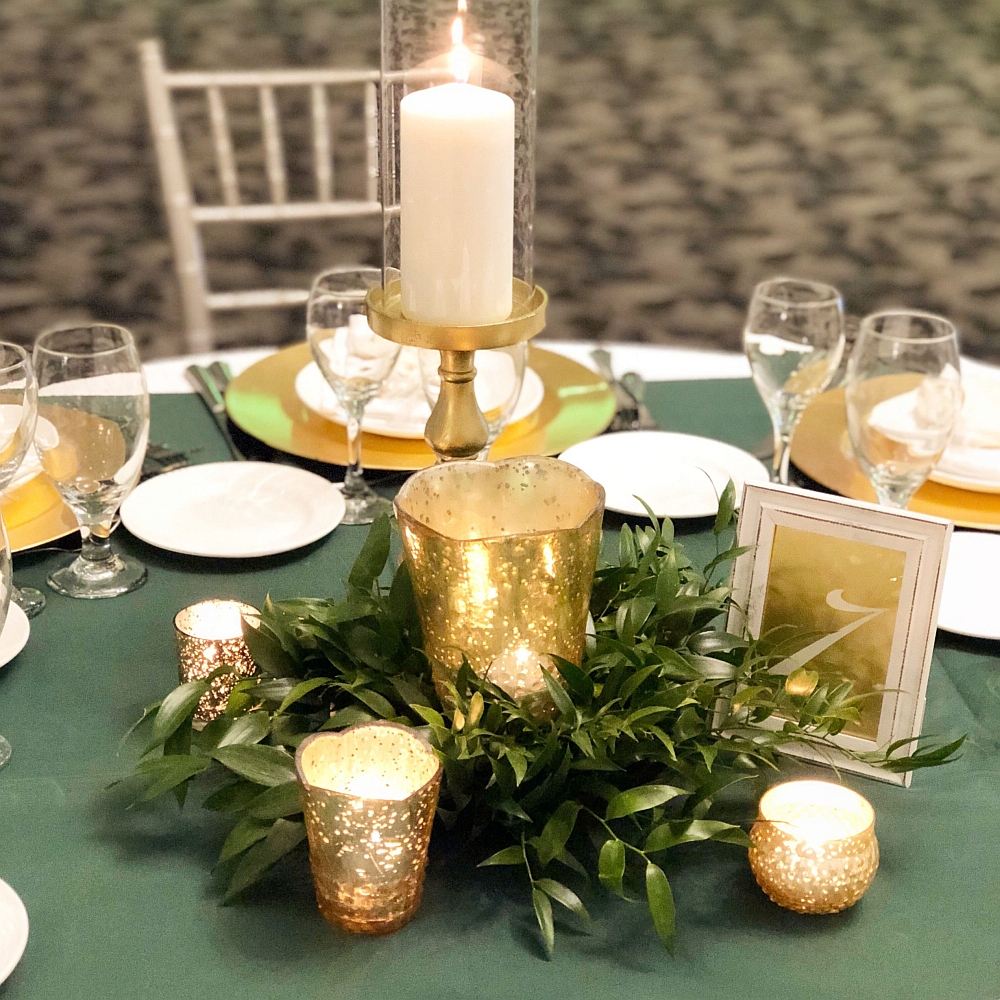 Gold votive holders with scented cande insets complement all types of event decorations such as parties, weddings, churches, and other special occasions.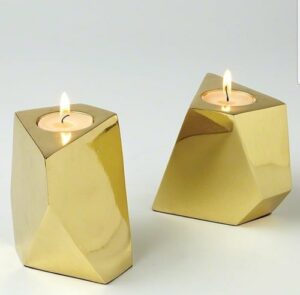 Some of the most common sizes are:
Small
Tall
Large
2 inch
3 inch
They enable you to create stylish interior lighting arrangements with complementary scents.
In the votive category, stores offer gold holders of many sizes with a wide variety of designs.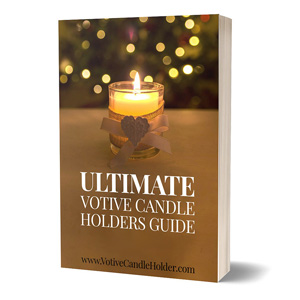 Our latest guide, 'Ultimate Votive Candle Holders Guide', is now available for free download.
Event Decoration Ideas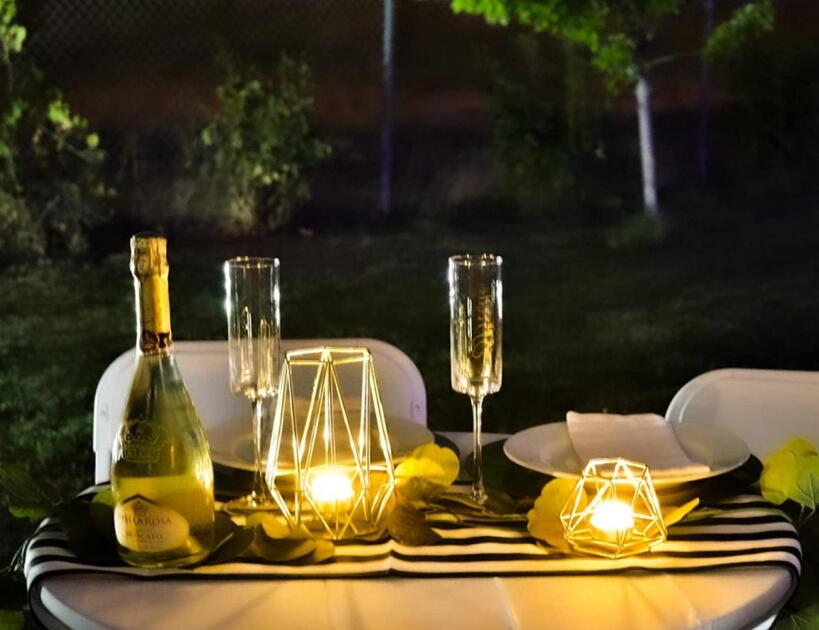 If you want to give a contemporary look to your home, you need to opt for gold votive candle holders as they can instantly provide the desired look to your home.
Although you can use them all year long, they are a must-have on special occasions like thanksgiving, New Year, weddings, and Christmas decorations.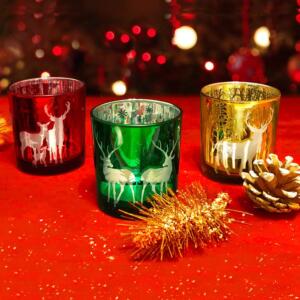 Christmas
Gold votive candle holders make perfect Christmas gifts. If you are looking for gift ideas, check out some exclusive gold votive candle holders.
---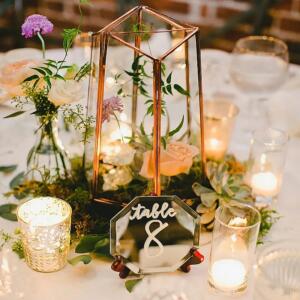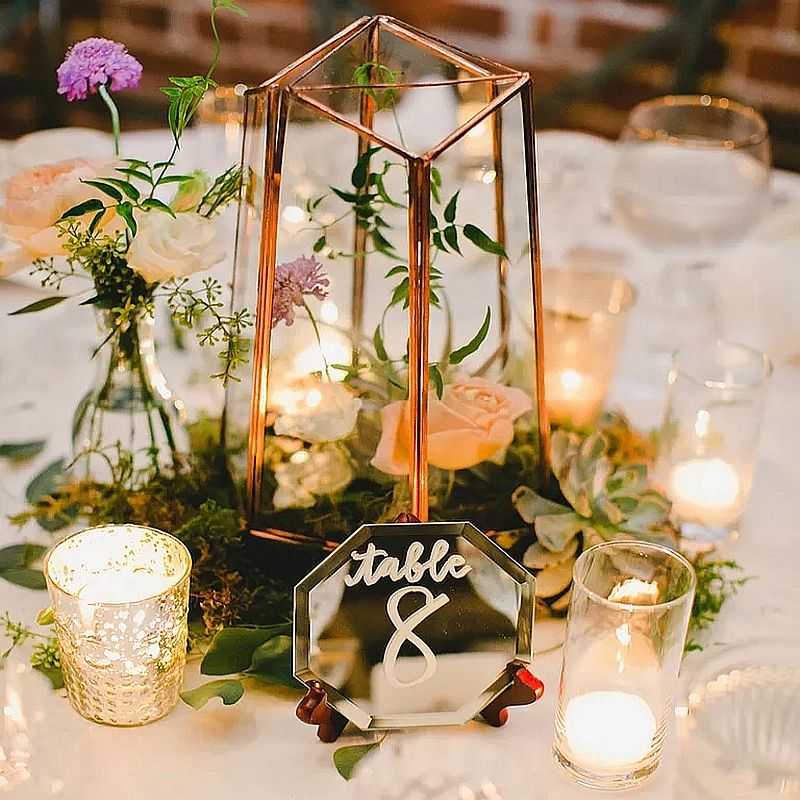 Wedding
Here is a wide collection of gold candles perfect not just only for Christmas decoration, but also as wedding favours, wedding centrepieces and reception decorations.
---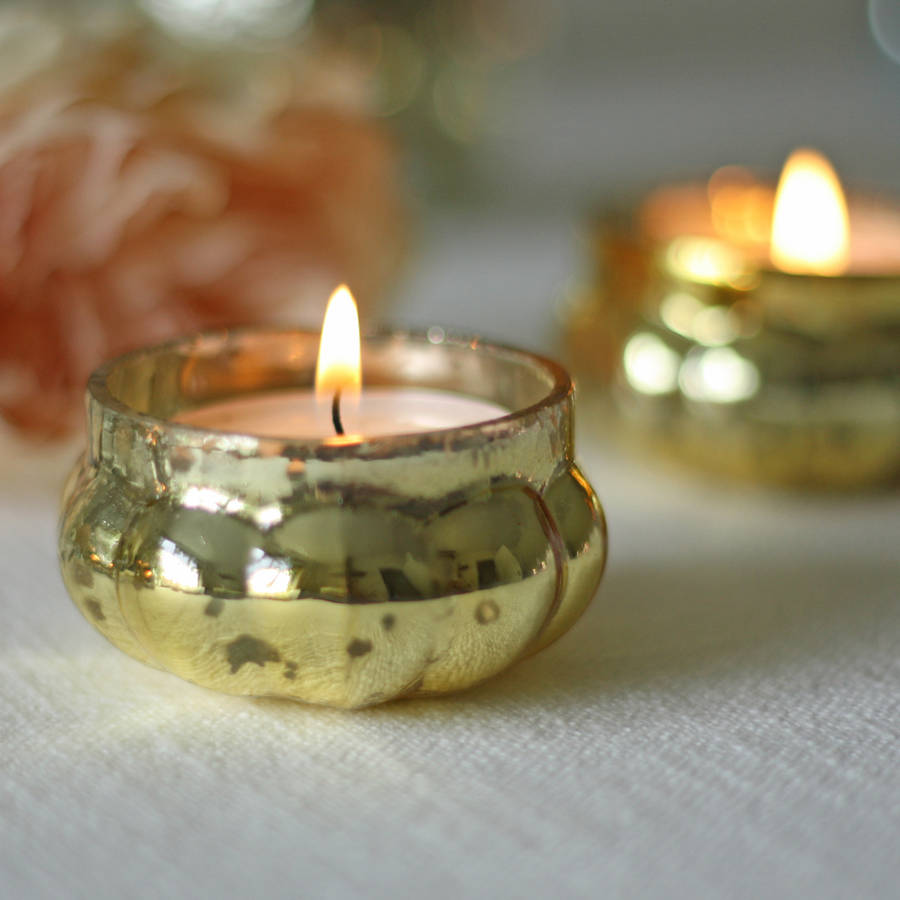 Thanksgiving
Gold votive candle holders make for a luxurious atmosphere at Thanksgiving dinner. They add a classic touch of gold to the dinner table and are associated with spending quality time with loved ones. Gold votive  holders are the perfect decorative centerpiece for your Thanksgiving table or party.
---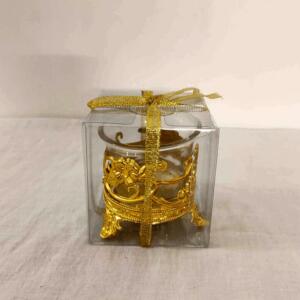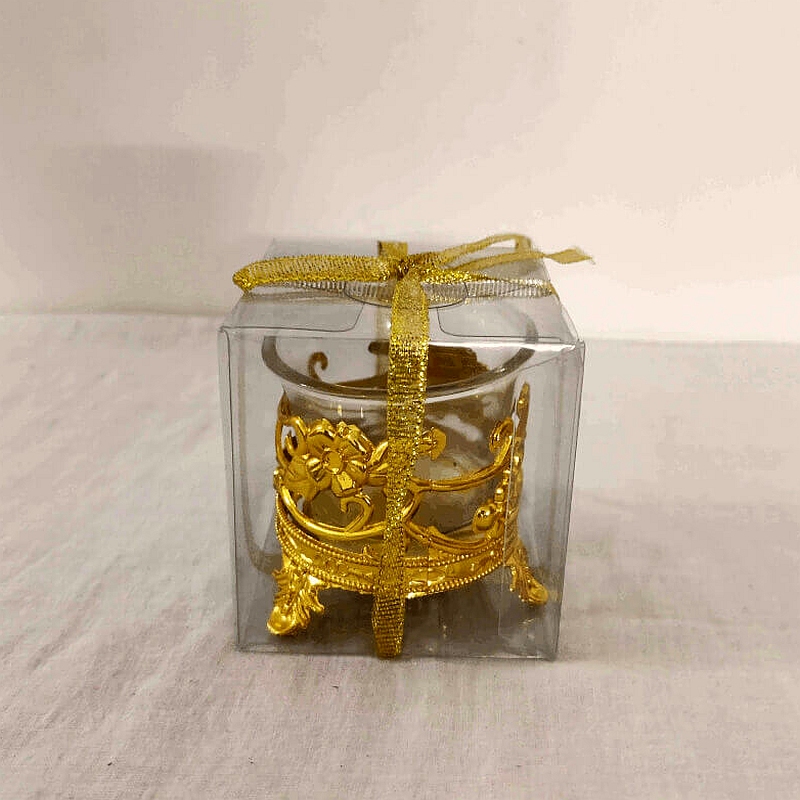 Valentine's Day
Gold votive candle holders and tea light holders are excellent ideas for housewarming gifts, wedding favors and party decorations.
---
DIY Gold Votive Holders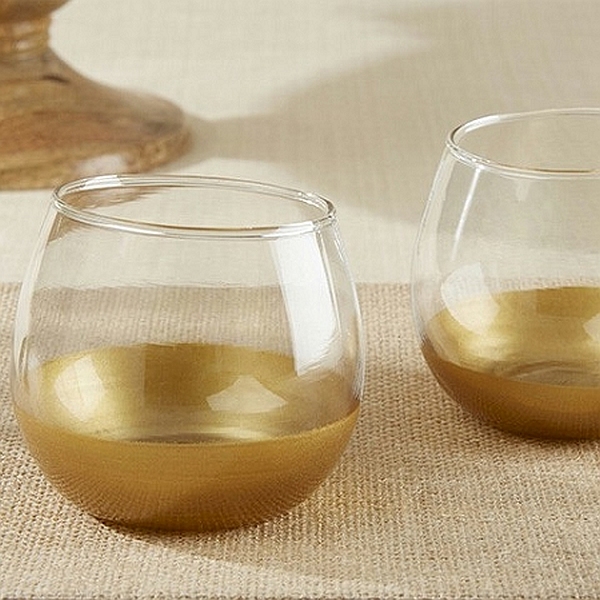 If you have a creative bent of mind and would like to design your own candle holders, then you can try your hand at DIY gold votive candle holders. Gold dipped votive holders are a simple way to dress your candles.
You just need to grab a few stainless-steel tumblers or wine glass tumblers and dip them in a liquid gold solution made from gold metallic dust and a binding solution.
It's an easy and fun way to transform low-cost items into stunning decorative votive candle holders.
Learn how to frost & how to paint votive candle holders.
Where to Buy Gold Votive Candle Holders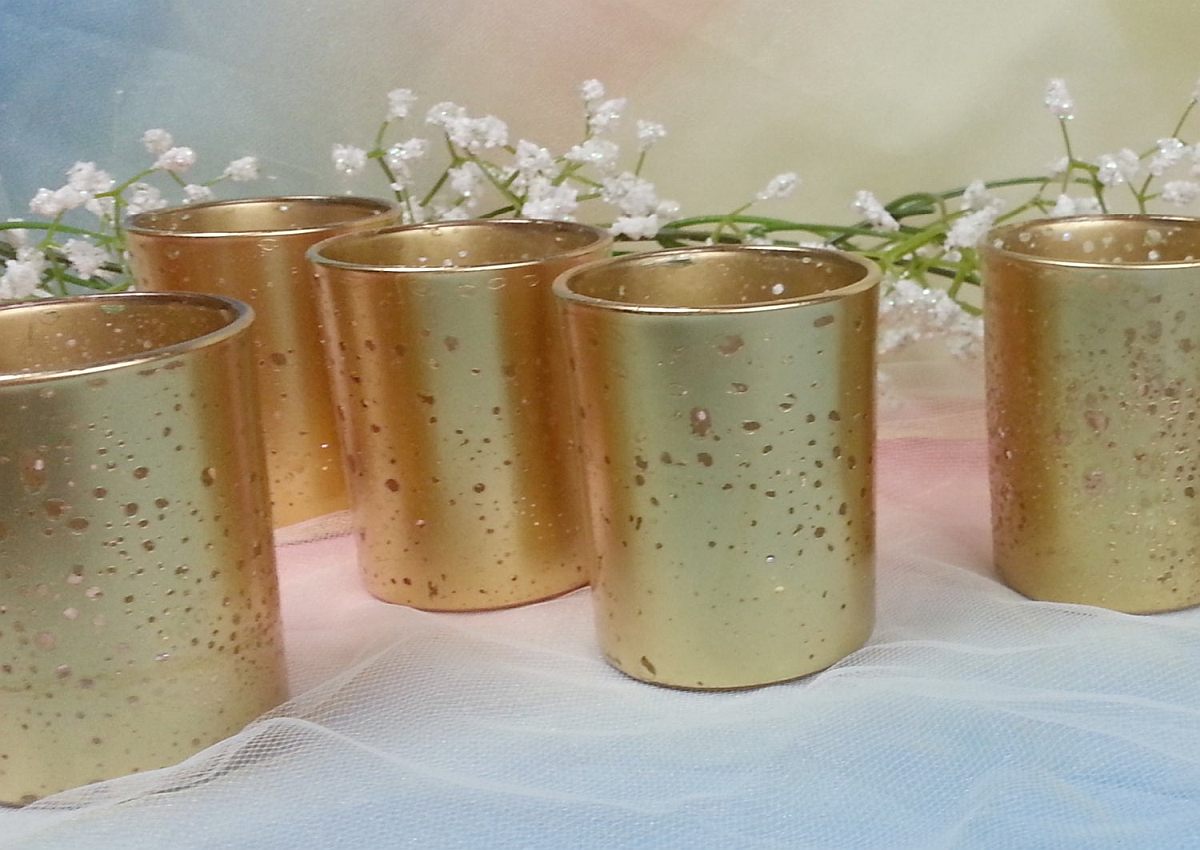 Finding votive candle holders shouldn't be a challenge. The biggest challenge might be finding these items that are priced well. There are several online stores that offer an impressive range of golden votive holders to meet all your votive holder needs.
Buy in Bulk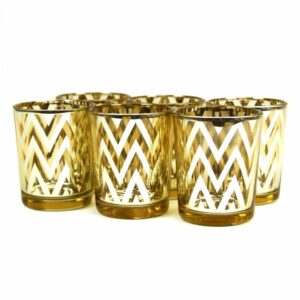 You definitely will want to take your time and find exactly what you're after.
Here are some of the top-rated sellers and marketplaces where you can find high quality holders at affordable prices.
---