Are you looking to add more ambiance to your next dinner party? Candles are the way to go, but no matter how beautiful they are, they can quickly melt due to the high temperatures of fire. So, you need something to ensure that the heat and wax spills do not damage the other centerpieces on your table.
Best Candle Holders for Dining Tables
This is where candle holders come in. But choosing the right candle holders will make all the difference in creating the perfect atmosphere. They are also ideal and thoughtful gift item that is both useful and decorative. However, candleholders are so much more than just holding candles in their place; they play an important role in elevating your décor and giving an exclusive visual appeal to your candles.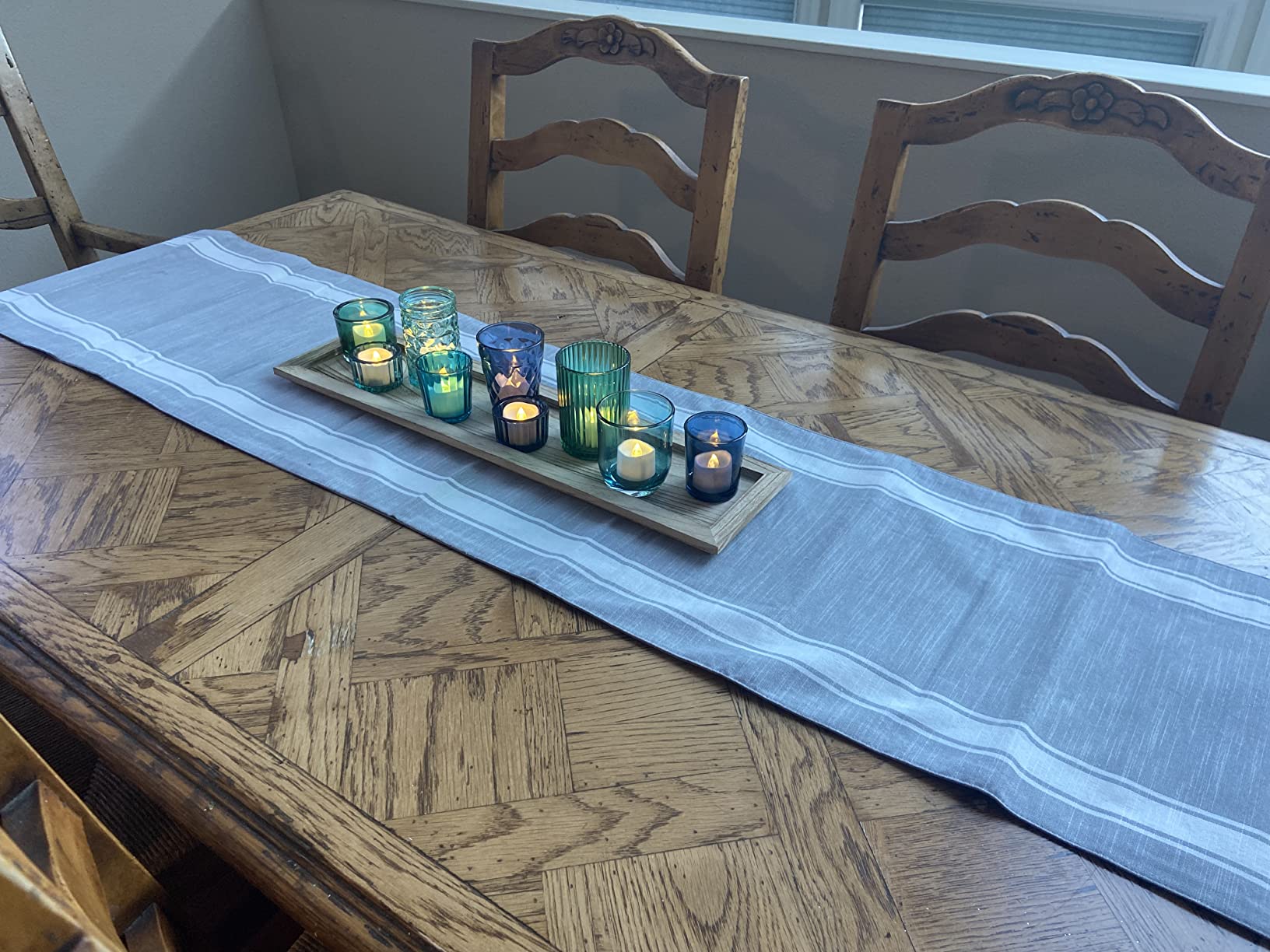 Make your event have a festive glow with the tantalizing radiance of candlelight and the elegant touch of candle holders in unique designs. They also make stunning centerpieces for dining tables that help boost the visual appeal of your overall décor tenfold. So, whether you're looking for candle stands for your event tables or home dining table, we decided to help you out and offer you 5 of the best candle holders for dining tables to make your dinner parties more enjoyable and memorable!
Crystal Beaded Votive Candle Holders
Beautiful crystal beaded votive candleholders not only add drama and glam to a dinner party or special event but also make ideal table centerpieces. If you're looking for a way to make your table sparkle, try these crystal-beaded votive candle holders. They will not only add an elegant touch but will also help you keep the table free from any potential mess that could occur without a candle holder.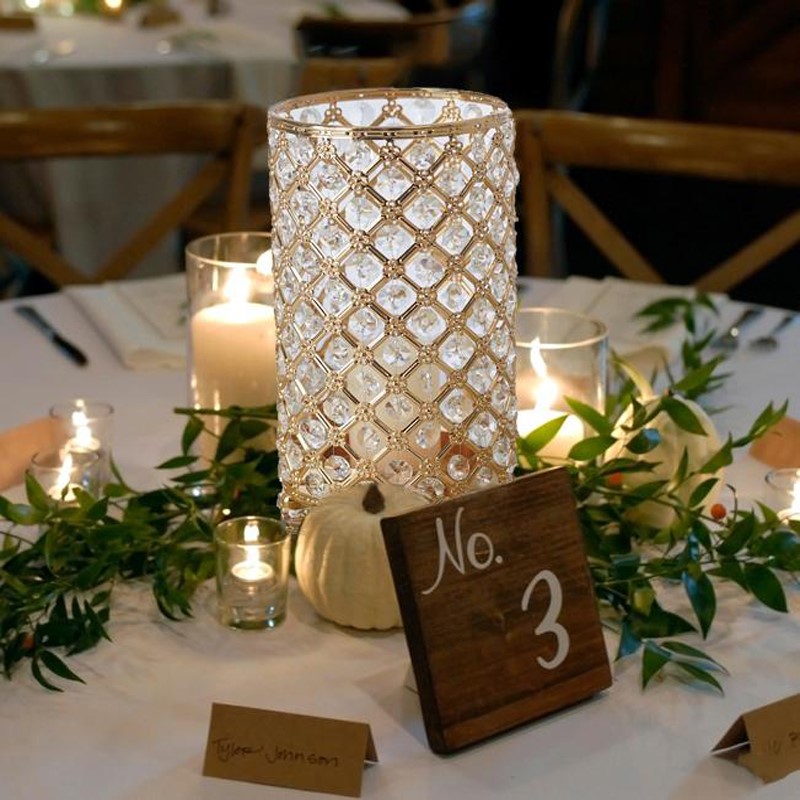 These candle holders are easy to clean and can be reused! Simply refill them with new candles and they are ready to use. They can easily decorate the dinner table while giving it an opulent feel. The elegant crystal metal frame design will give a minimalist look that will surely impress your guests.
Crystal Candelabra Glass Candle Holders
Decorative crystal candelabra glass candle holders are one of the fascinating items that can be used to decorate your dining table. Give your candle display a surreal charm using this stunning candle stand featuring lovely acrylic pendants suspended from the ridges of the holders, which reflect and refract light in all directions.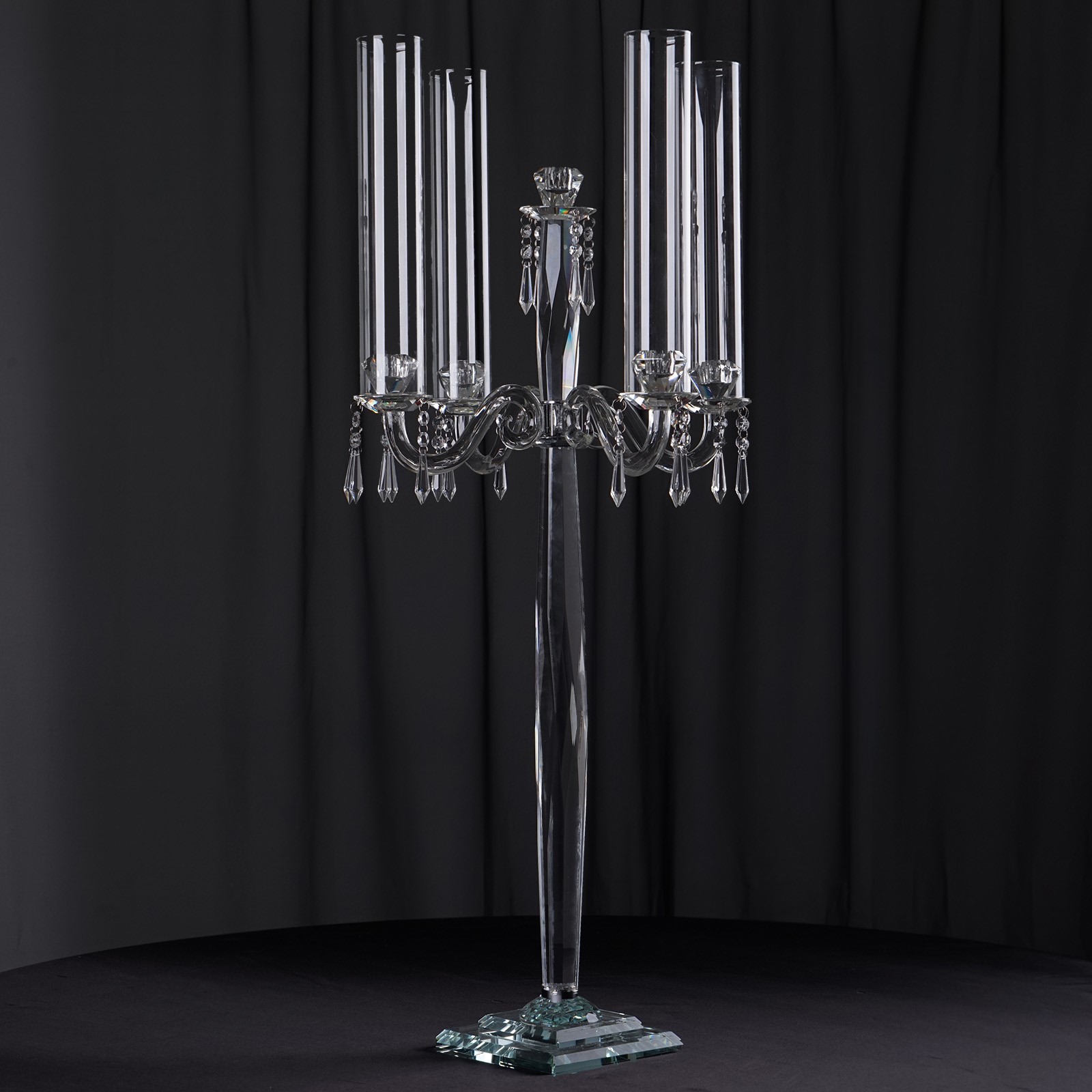 It has four twirl-arm candle holders with fascinating cylindrical chambers that will surely upgrade your dining table decor. You can also customize this candle holder by adding decorative accents. Pair it with flowers or ribbons to create an impressive centerpiece and a pulsating ambiance that is bound to impress your guests.
Wooden Lantern Candle Holders
Candle holders are more than just a simple way of adding some extra light and decoration to your room; they look great and are very practical. Rustic wooden lantern candle holders add a bucolic appeal to your table décor with their natural wooden texture and glass panes.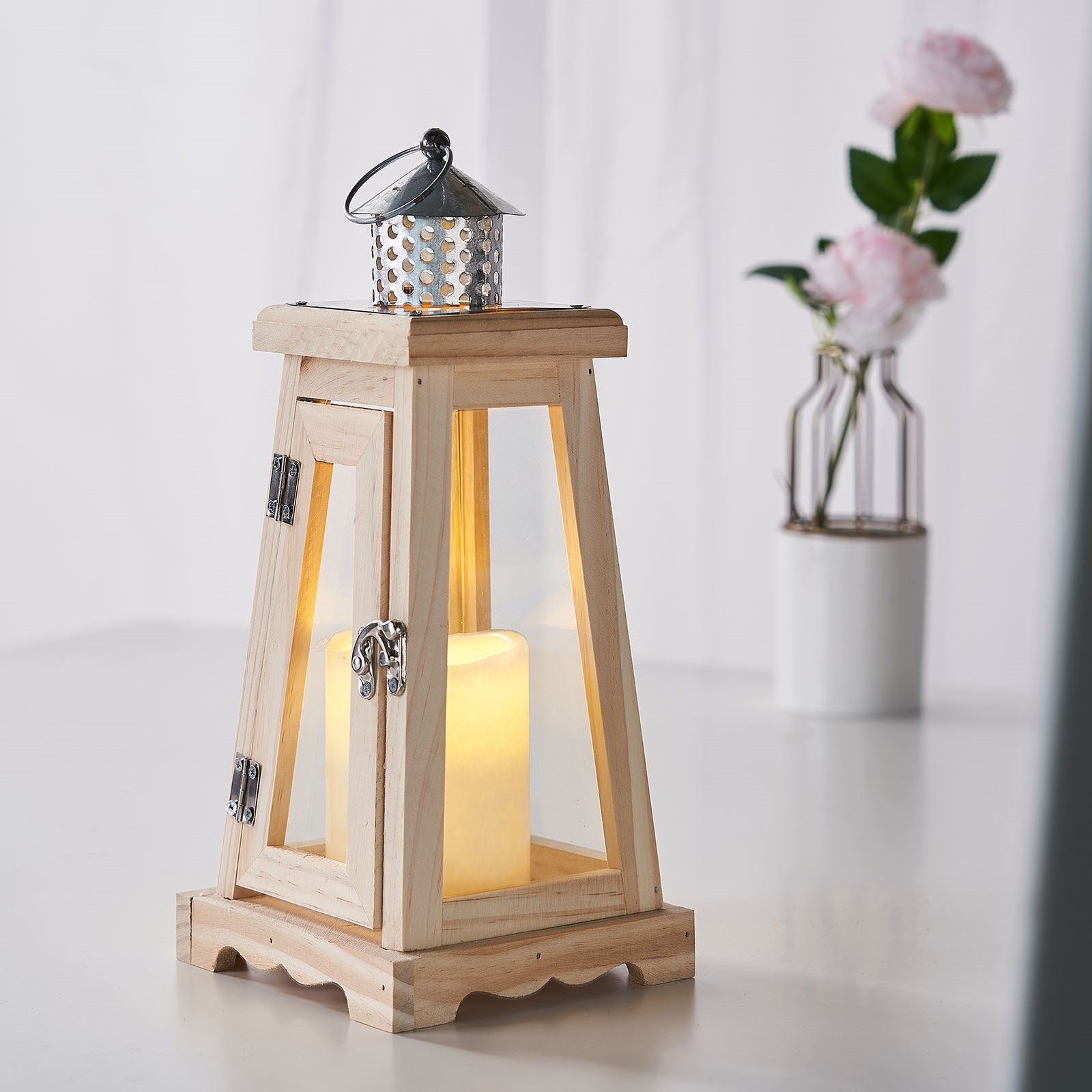 These natural wooden lanterns will look great on your table regardless of the style you're going for. However, they are ideal decor items if you're organizing a countryside-themed dinner party or desire idyllic table decor. Pair them with a monotone decor accent to achieve a minimalistic yet stunning table decor.
Hurricane Glass Pillar Candle Holders
A dinner party would be boring without a candle holder centerpiece. But if you want something even more dramatic, opt for luxurious tall gold candle holders. Give your dining table a grand touch with its lace pattern design and light amber-tinted glass holders.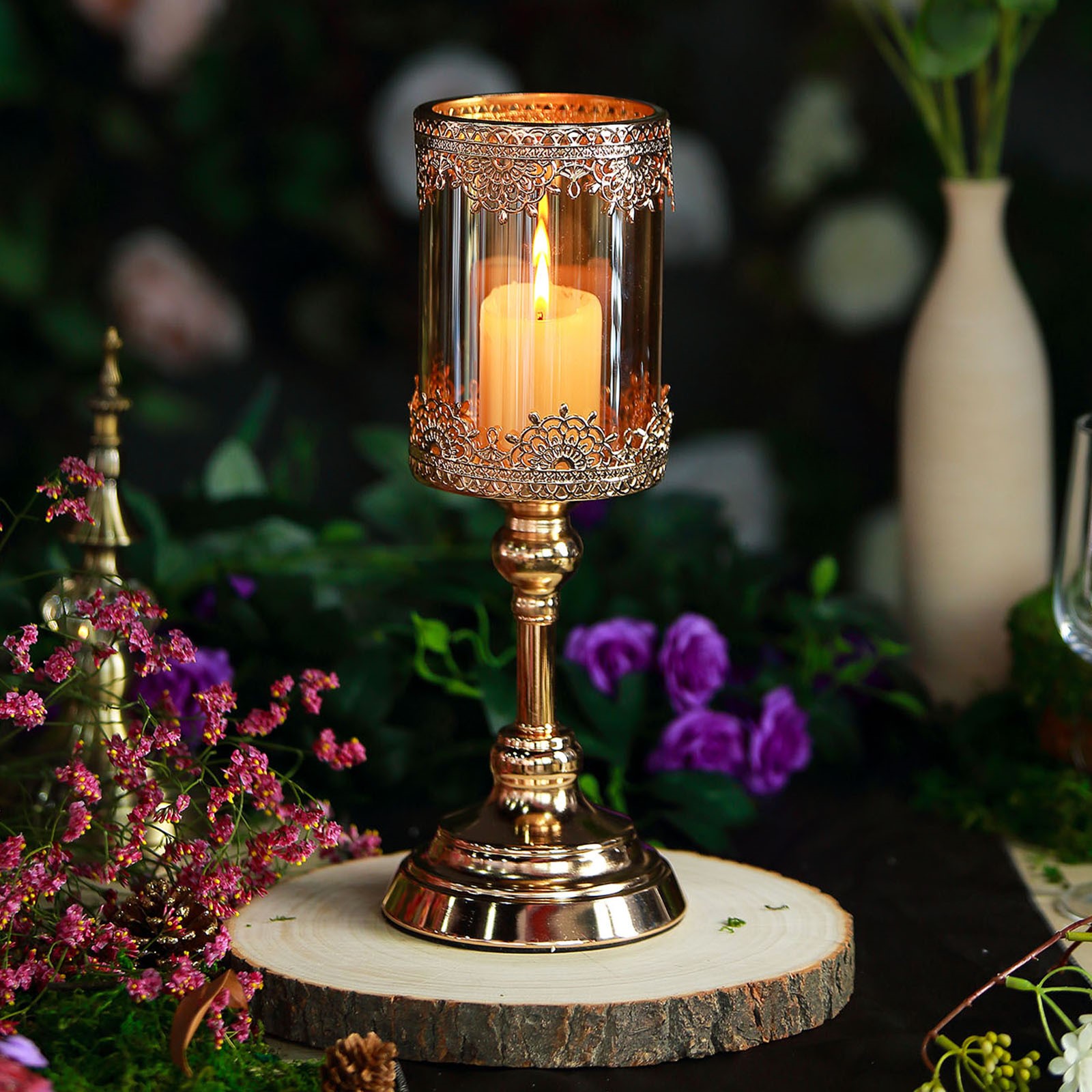 The wide round metal base secures your candle and adds a decorative touch to your dining table. It can help provide mood lighting and will also look nice while people are eating their dinner. This candle stand is useful since it prevents the candle from getting extinguished so readily. With its lustrous metallic gold color, ornate style, and baroque design, this candleholder will boost your party table decoration.
Mercury Silver Glass Pillar Candle Holders
If you're looking for a candle holder centerpiece, try the mercury glass pillar candle holders. They have a beautiful mercury finish that will add a touch of elegance to any table setting. These candleholders are made of shiny splattered metallic mercury glass and hold up tea lights, pillars, or votive candles.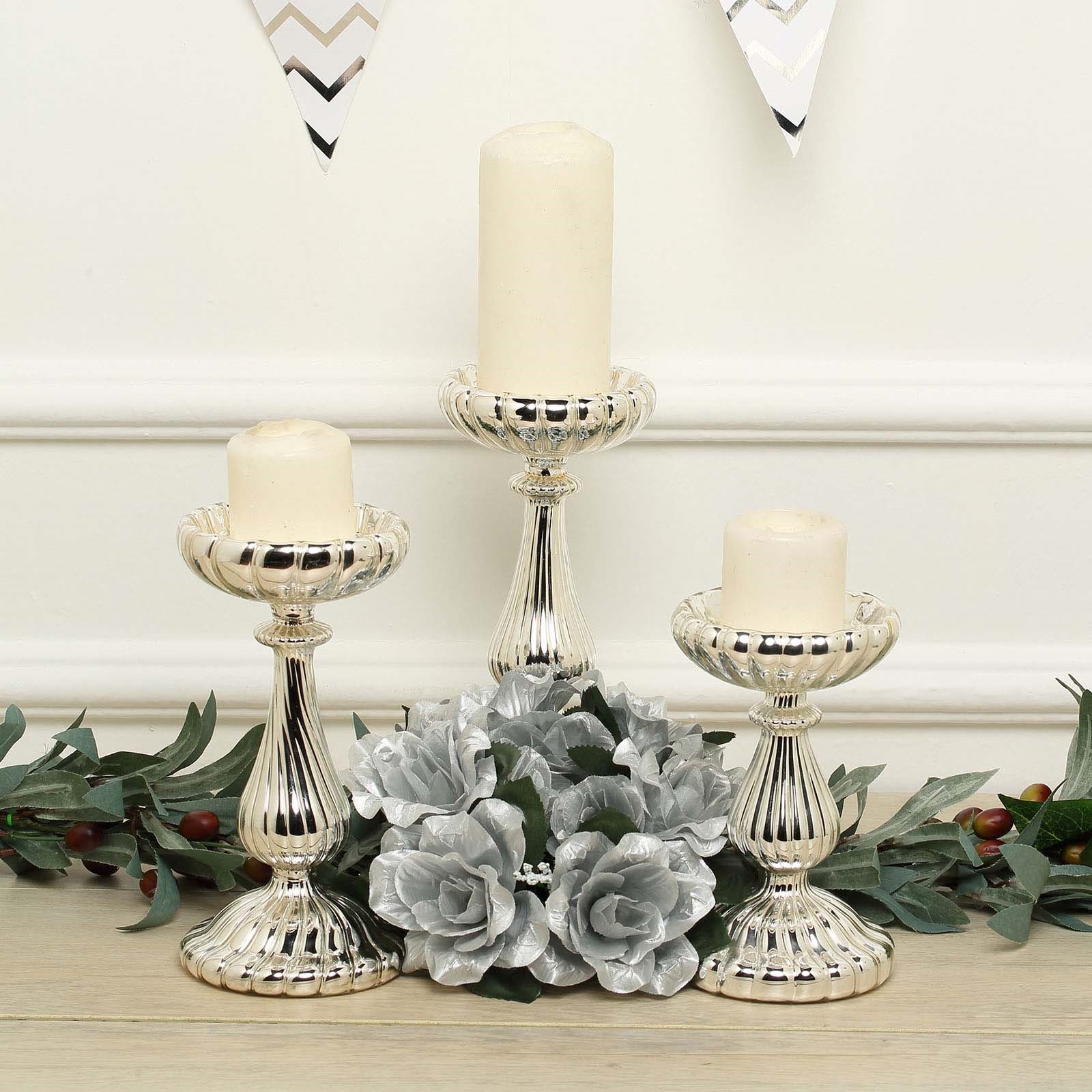 By lighting pillar candles, you can create a stunning display of shine and sparkle at the very center of the dining table. The fascinating baroque-inspired pillar candle holder designs add an ambiance that is perfect for a dinner party table making everything special and elegant.
DIY Decorations
Votive candle holders are a great way to add a touch of elegance and sophistication to a dining table. They can create a cozy and romantic ambiance, perfect for an intimate dinner for two or a special occasion.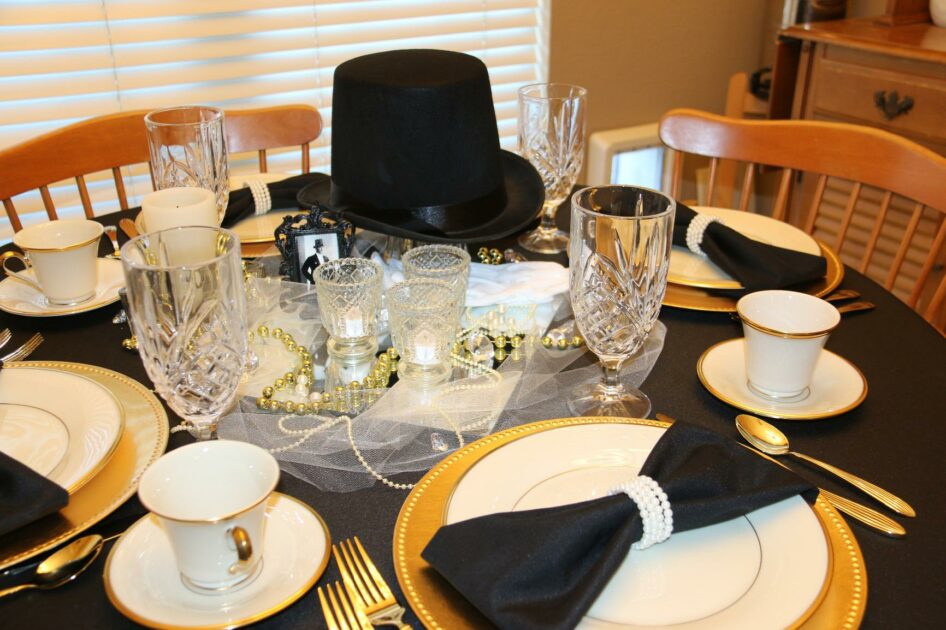 Candlelight can help set the mood for your meal and make your guests feel special. Votive candle holders also add style and a decorative element to the table. They are also a great way to show off your favorite candles and can be used in combination with other table decorations.
Start by selecting a set of candle holders that fit your dining table's style. Choose different sizes, shapes and colors to create a unique look.
Place the candle holders around the table in a symmetrical pattern. Keep in mind the size of the table and the number of candles you plan to use.
Place a candle in each holder. If you're using different sizes of candles, place the larger ones in the center and the smaller ones around the edges.
Add a few decorative accents around the candle holders, such as greenery or flowers.
Place some small votive candles in glass holders around the table to create a romantic atmosphere.
Place a centerpiece on the table, such as a bowl of fruit or a vase of flowers, to give the table a finished look.
Light the candles and enjoy the warm, inviting atmosphere created by your candle holders.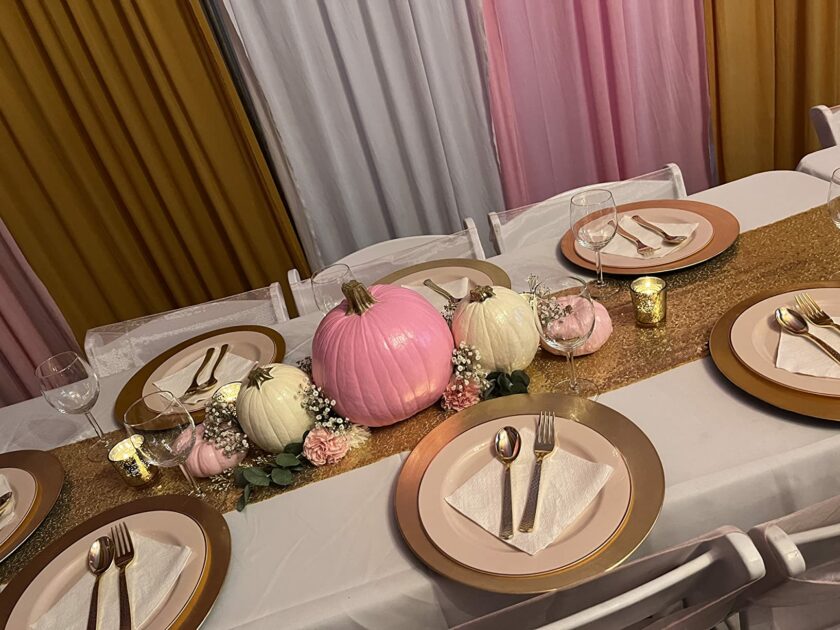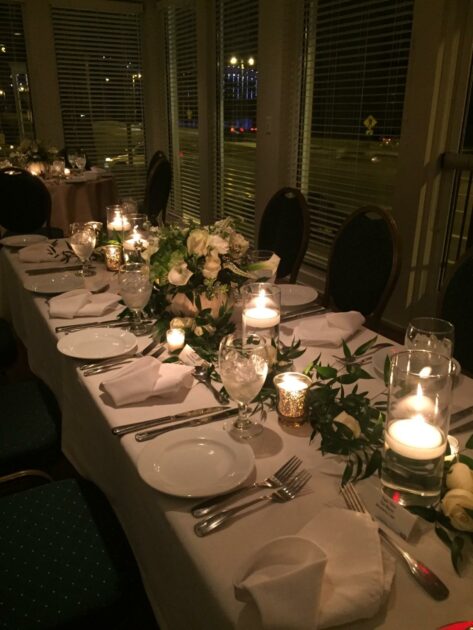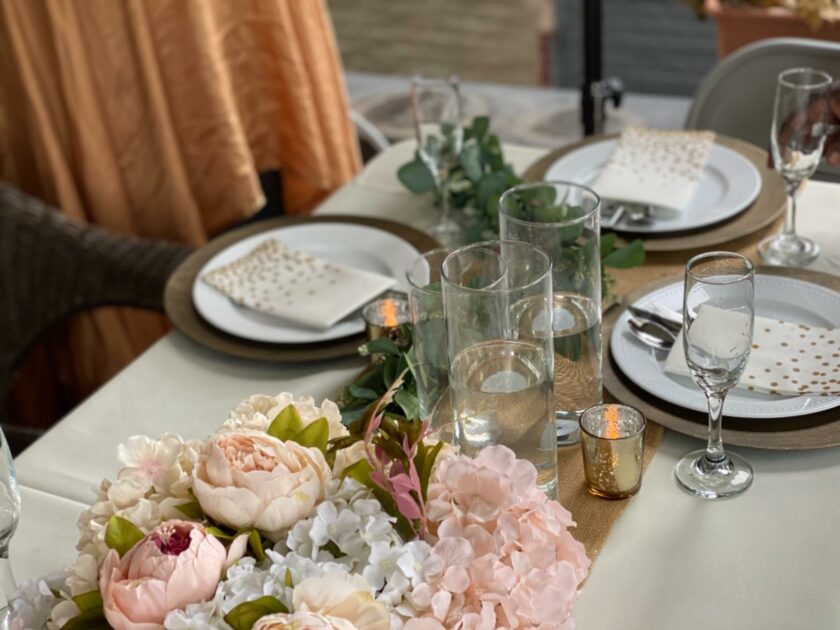 Have you ever used candles as a centerpiece? Visit our gallery for dining room inspiration.https://t.co/gv1xHR0BIH pic.twitter.com/RjQe8oEoMT

— Jackson House (@JacksonHouseNJ) February 21, 2023
Conclusion
Candles are an excellent addition to the dining table decor. They create a romantic mood and a fascinating table decoration. But to make the whole picture complete, you should choose elegant candle holders to elevate your tablescape to the next level.
The unique designs and patterns will make your event tablescape look luxurious. It can be challenging to select the ideal candleholders for your occasion, but you can narrow down your search by looking at these styles. So, choose the best candle holder for your dining table to make your dinner more elegant and charming with its presence.