When the weather starts to turn cold and dreary, there's nothing like a warm candle to chase away the chill. Not only do candles provide light and comfort, but they can also add a touch of elegance to the surroundings.
If you're looking for a new way to enjoy your favorite candles, why not try using hurricane candle holders? These holders typically have a cylindrical shape with a wide mouth and are made from glass or crystal that is designed to protect the flame from wind.
Hurricane Candle Holder Decorations
They have also a large, sturdy base that makes them less likely to tip over and come in a variety of styles and colors, so you're sure to find one that matches your decor. Some are simple and sophisticated while others are more ornate and elaborate. These holders are a versatile option for any setting and a great way to create a warm and romantic atmosphere. Whichever design you choose, hurricane candle holders allow the light of the candle to shine through, creating a beautiful effect.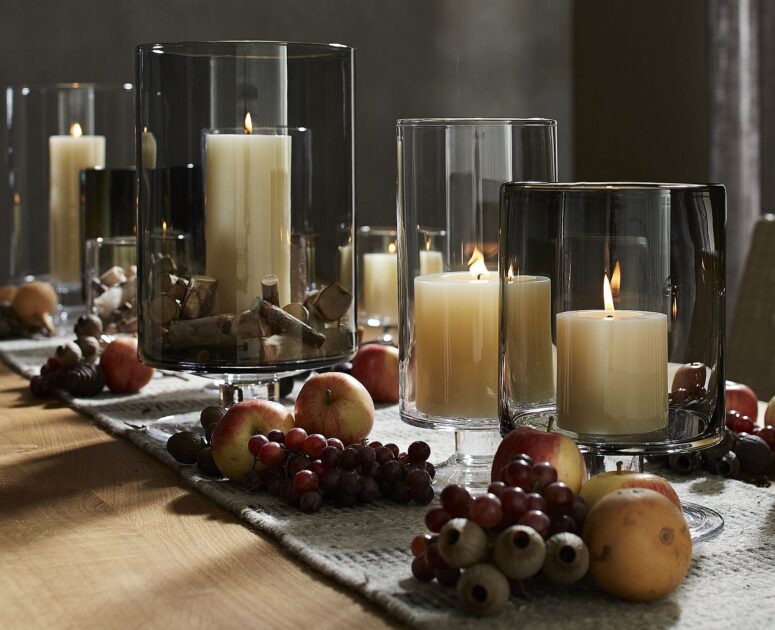 In this blog post, we'll take a look at some of the most popular designs of hurricane candle holders. So whether you're looking for something attractive and stylish or something more rustic and whimsical, it will be easier to narrow down your decoration options.
Tall Clear Crystal Glass Hurricane Taper Candle Holders
A tall clear crystal glass hurricane taper candle holder is an exquisite design to display your candles. Whether you use them for special occasions or everyday use, they are a beautiful and practical way to enjoy your candles.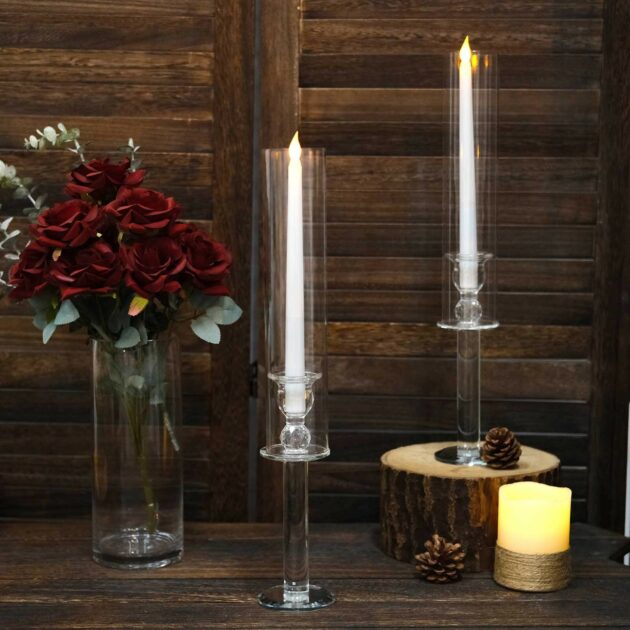 The clear glass hurricane candle holders allow the light of the candle to shine through, creating a warm and inviting ambiance. These holders are also a great way to add some height to your table setting. If you are having a dinner party, they can make a great centerpiece. Moreover, as they are made of glass, they are easy to clean and reuse.
Tall Gold Metal Hurricane Glass Tube Pillar Candle Holders
If you're looking for a unique way to light up your space, consider using tall gold metal hurricane glass tube pillar candle holders. The sleek and stylish metal hurricane candle holders are made of a sturdy gold-tone metal base and feature a light amber tint glass tube that encases the candle.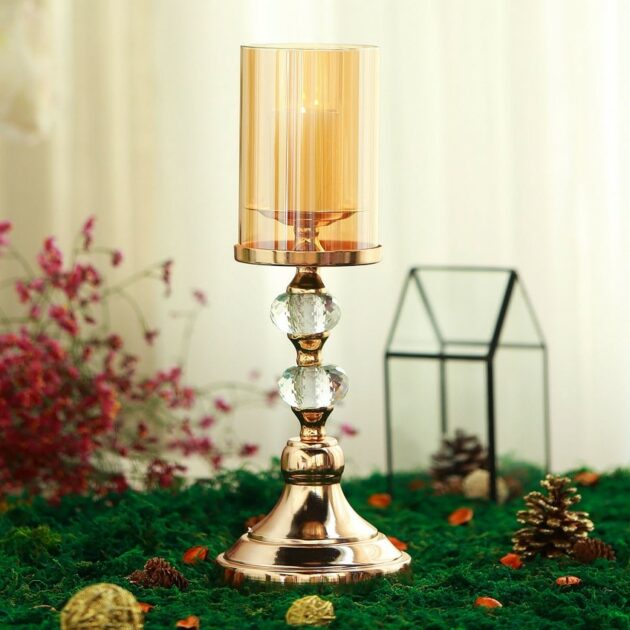 The result is a sleek and modern look that is perfect for any decor. Whether you're using the alluring metal hurricane pillar candle holders as part of your wedding decor or simply want to impart a luxurious appeal to your next dinner party, they are sure to impress everyone.
Antique Gold Lace Hurricane Glass Pillar Candle Holders
Another popular design to beautifully spruce up any decor is antique gold lace hurricane glass pillar candle holders. One great way to use these holders is to create a focal point in a room. For example, you could use them to highlight a fireplace or an heirloom piece of furniture.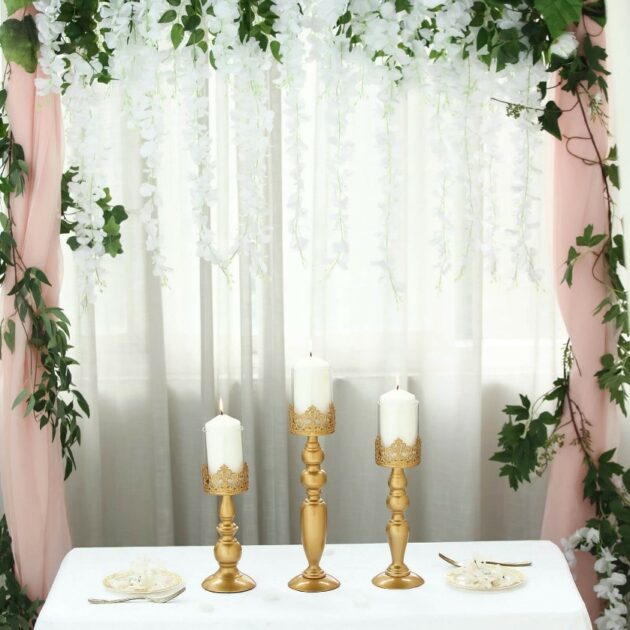 You can also augment the aesthetics of your outdoors such as a garden or patio by grouping height-varied antique gold holders together generating a striking appeal. If you want to impart a dreamy allure to your dinner tablescape arrange the antique hurricane candle holders around fresh flowers for an enticing display.
Antique Hurricane Glass Candelabra
Impart a touch of luxury to your parties or other special occasions with exotic tall antique gold metal hurricane glass candelabra. They can be placed as an opulent centerpiece on your tablescape to exude a sumptuous allure. You can arrange the candelabra along with pretty flower vases to take your decor to a whole new level of glitz and glam.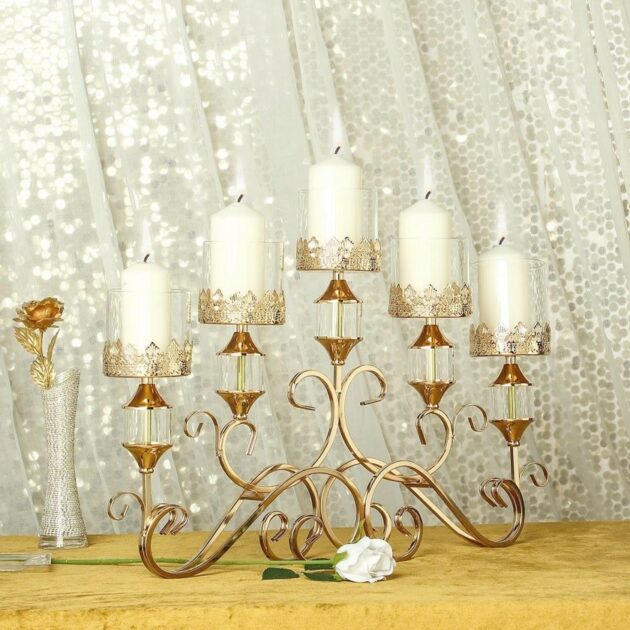 However, if you want a more dramatic look, group them together with other antique decor items such as vintage vases, books, and clocks. You can also use these holders to create a cheerful ambiance outdoors by simply filling them with brightly-colored candles.
Gold Mercury Glass Hurricane Candle Holders
Candle holders are a must-have home decor item, and gold mercury hurricane candle holders are a trendy choice. The gold color adds a bit of luxury to the overall look and the reflective surface of the mercury glass amplifies the light of the candles, creating a stunning effect.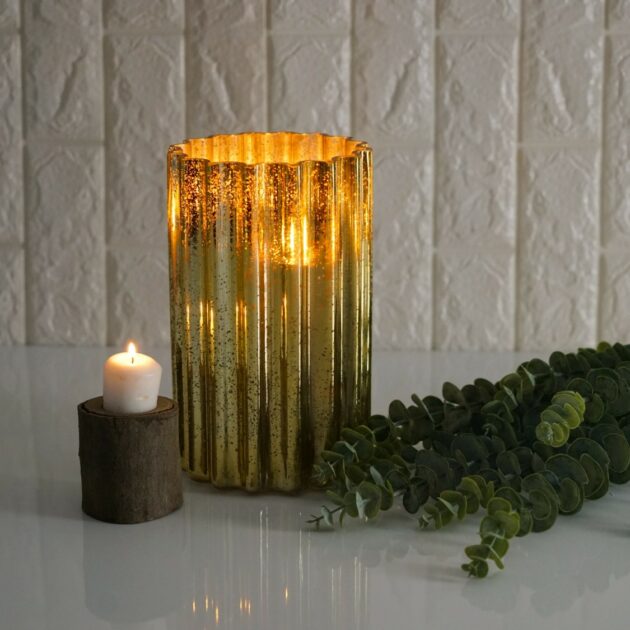 In addition, mercury glass hurricane candle holders are typically very affordable, making them a great choice for budget-minded shoppers. They are perfect for any theme and design and effortlessly spruce up your surroundings. These tall hurricane candle holders can be placed as contemporary centerpieces on the tables to add a pop of glamour and charm to the decor.
Recreating this in my home w| a slight twist . I've got the mirror , bench , and Chanel book . I need a silver vase full of faux orchids , and the hurricane candle holders . pic.twitter.com/L1tYv0cwj7

— Fine-ance (@TheTajMiham) January 26, 2021
Conclusion
There are many different beautiful designs of hurricane candle holders to choose from and we hope these popular holders will make it easy for you to select. No matter what your personal style is, there's sure to be a holder that's perfect for you. Many people like the classic, elegant style of a clear glass hurricane candle holder. Others prefer the more modern look of metal or colored holders. Whichever style you choose, make sure its size is appropriate for the space in which you will be using it and it will complement the overall theme of the decor.