Skull candle holders are one of the most unique and fascinating pieces of decoration available in the market today. With their eerie, yet elegant design and flickering candlelight, they add a touch of macabre charm to any space they occupy.
These candle decorations have become increasingly popular in recent years, particularly for Halloween parties and other spooky events. However, skull candle holders are not just for Halloween – they can be used to create a hauntingly beautiful ambiance all year round.
Skull Candle Holders
Whether you're a fan of the supernatural or simply looking for a unique and eye-catching decoration, skull candle holders are an excellent choice that truly stands out from the crowd.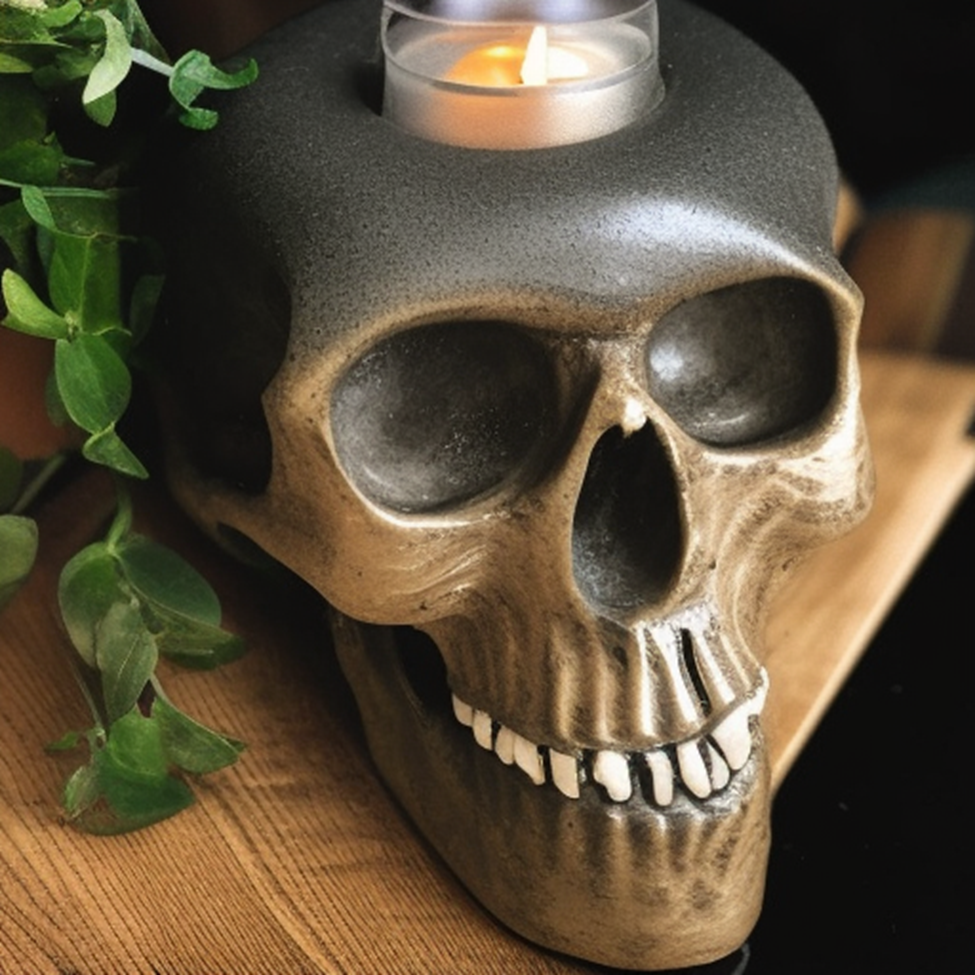 In this post, we'll explore the many different ways that you can use skull candle holders to decorate your home or event space, from creating a spooky centerpiece to lining walkways and more. So, let's dive in and explore the many creative possibilities of decorating with these hauntingly beautiful pieces.
Unique Designs and Materials
Skull candle holders come in a vast array of designs, from minimalistic and modern interpretations to intricately detailed, handcrafted pieces, the options are limitless. These candle holders are a unique and fascinating addition to any party or home decor. When purchasing a skull candle holder, it is important to consider the materials, care instructions, and symbolism behind the piece.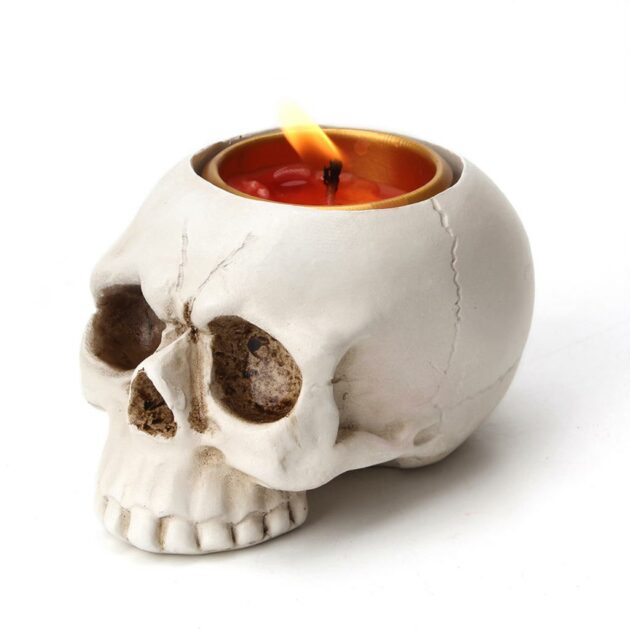 One popular material used in the creation of skull candle holders is resin. For those seeking a more pastoral and authentic touch, there are rustic candle holders crafted from natural materials such as wood or bone. Another exciting variation is the use of glass or crystal. These translucent glass candle holders can add a touch of elegance and mystique to your decor.
Skull Candle Holders For Home Decor
Skull candle holders are incredibly versatile and can be incorporated into various areas of your home to create a captivating ambiance. These skull candle holders add a touch of intrigue and boldness to various areas of the home. Placing them on the living room coffee table creates a captivating centerpiece, effortlessly drawing attention and sparking conversations.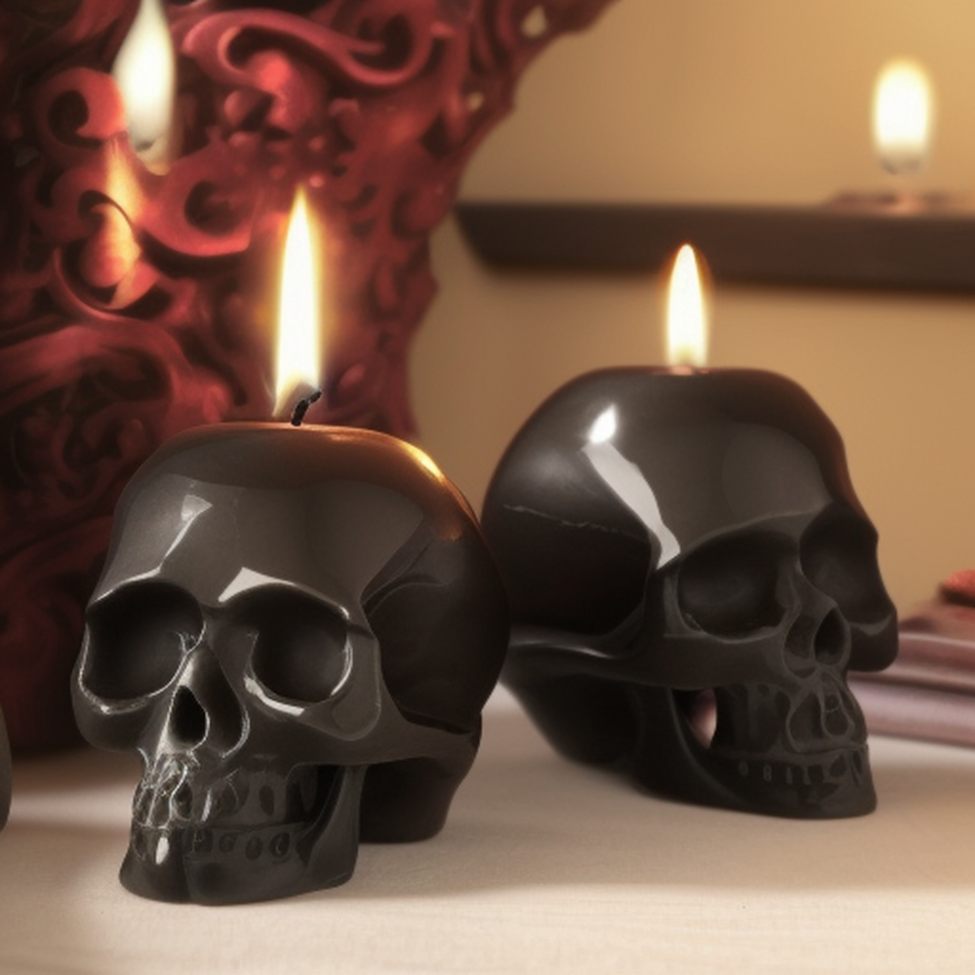 When positioned on the dining table, these unique candle holders set an unconventional yet stylish tone for gatherings and dinner parties. In the bathroom, skull candle holders lend a touch of mystique and gothic charm, transforming an everyday space into a captivating sanctuary. When displayed on a bookshelf, they add an edgy element to the surrounding literary treasures. Even outdoors, these small candle holders create a bewitching atmosphere, casting intriguing shadows and enhancing the ambience of any garden or patio setting.
Skull Candle Holders For Halloween Party
When it comes to Halloween party decorations, the possibilities are endless. From spooky spider webs to creepy skeletons, there are plenty of ways to create a bone-chilling ambiance that will thrill your guests.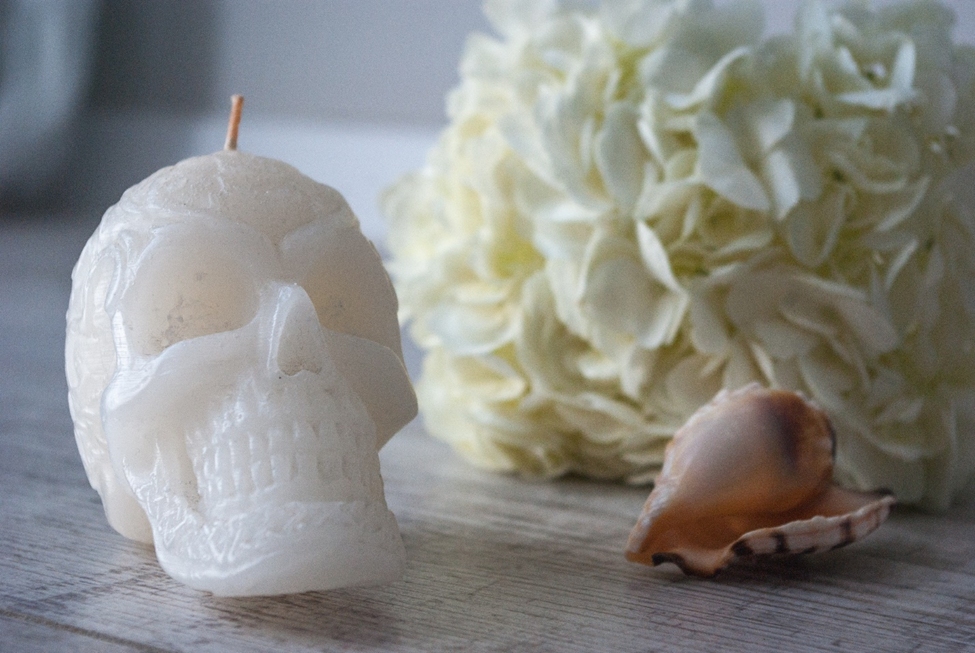 One Halloween decoration that is growing in popularity is the skull candle holder, with its eerie design and flickering candlelight, this product can add a touch of macabre charm to any Halloween party.
Choose the Right Size and Color
As you prepare for your highly anticipated Halloween party, selecting the perfect decorations is key to creating a spooky and memorable ambiance. When choosing skull candle holders as part of your decor, it's important to take into consideration two factors: size and color. Ensure that your decorative candle holders match the scale of your party space.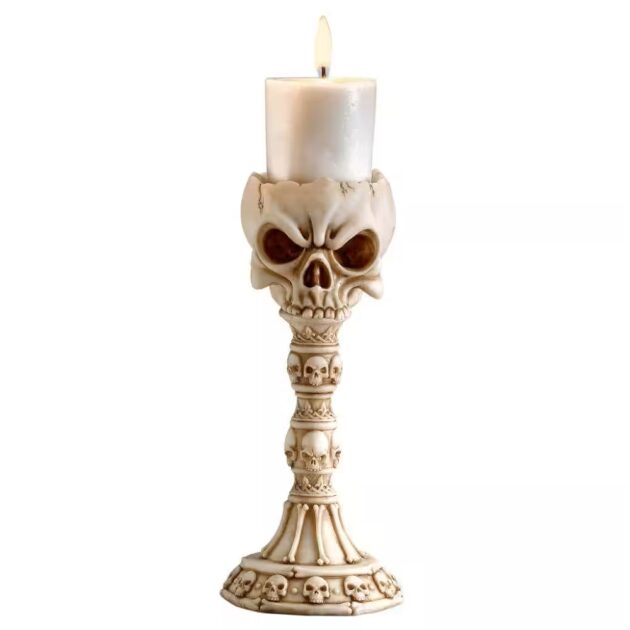 Additionally, incorporating a cohesive color scheme is key when decorating for any event. Choose skull candle holders that complement the colors you've chosen for your party decor for a harmonious and put-together look. With the right size and color, your skull candle holders will add just the right amount of spooky charm to make your party an unforgettable one.
Create Spooky Centerpieces
Creating spooky Halloween centerpieces with skull candle holders is a fantastic way to enhance the eerie and haunting ambiance of your Halloween event. These spooky candle holders can add a touch of macabre charm to any table or surface, making them the perfect choice for creating a spine-tingling centerpiece that will thrill your guests. There are countless different ways to incorporate skull candle holders into your spooky Halloween centerpieces.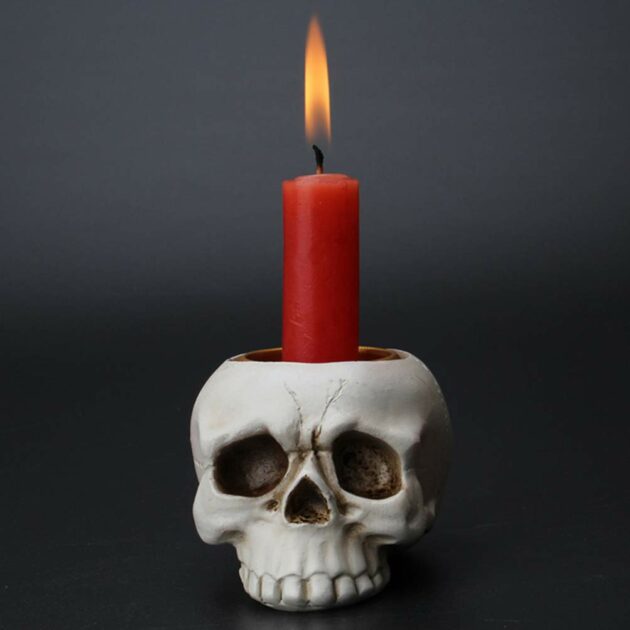 From gothic black candelabras adorned with multiple skull candle holders, to rustic wooden trays decorated with spider webs and candles, the possibilities are endless. You can also get creative with the types of materials you use, such as incorporating pumpkins, dried flowers, or even bones to create an even more eerie effect. With a little bit of imagination and some careful planning, you can easily create eerie Halloween centerpieces that will leave your guests talking for years to come.
Line the Pathways Leading To Your Party
One unique and effective way to enhance the ambiance of your Halloween party is by utilizing skull candle holders as pathway décor. By placing these eerie and eye-catching Halloween candle holders along your walkway or driveway, you can create an unsettling and memorable entrance to your event. Not only do these candle holders add to the overall aesthetic of your Halloween decorations, but they also serve as functional lighting for guests as they navigate their way to your party.
Whether you choose to use traditional white candle flames or colored candles to add an extra pop of spookiness, the subtle glow of these candle-lit skulls are sure to impress your guests and make for an unforgettable entrance to your Halloween celebration.
Use Them in Groupings Around the Room
If you're looking for a way to add an eerie and creepy atmosphere to your next event, consider getting some skull candle holders. These unique and macabre Halloween candle holders are perfect for setting a mood that is both haunting and intriguing.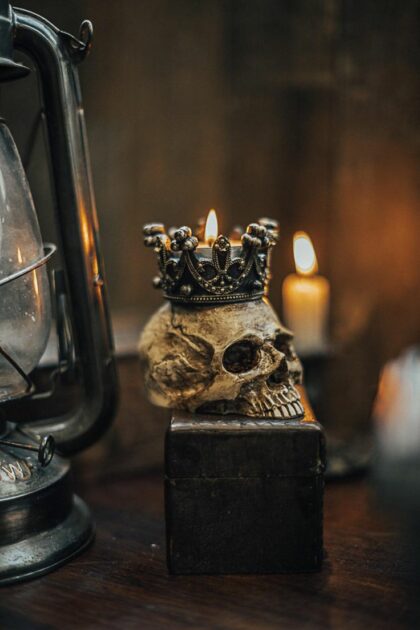 Placing them in groupings throughout the room can create a truly dramatic effect, whether you cluster them together on a table or shelf, or place them in various locations. Your guests will be kept on edge throughout the entire party, and will surely remember the event for years to come. With their spooky and mysterious vibe, skull candle holders are the perfect addition to any Halloween party, haunted house, or Gothic-themed event.
Use LED or Flameless Candles
When planning a party, it's important to prioritize safety while still creating a fun and festive atmosphere. A popular decoration choice that can add a spooky touch to any Halloween or horror-themed event are skull candle holders. However, it's crucial to consider the potential fire hazard of using real candles in them.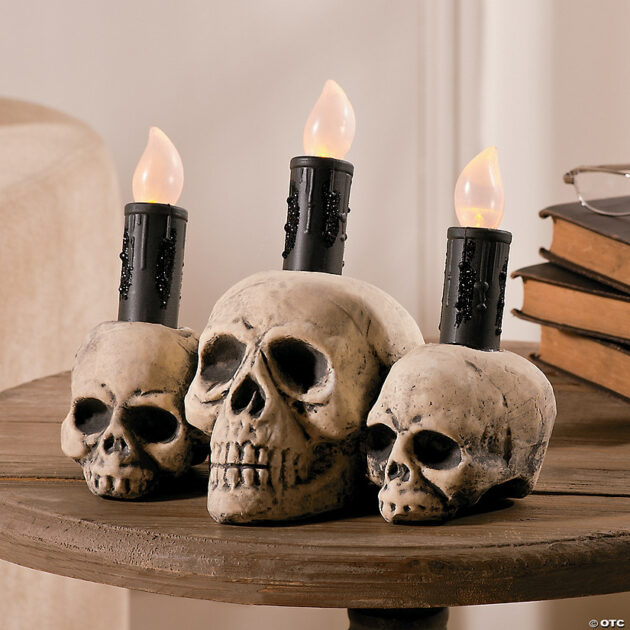 To ensure the safety of your guests, it's strongly recommended to instead use LED or flameless candles. Not only will this eliminate the risk of fire, but it also allows for a worry-free celebration without constantly monitoring open flames. With the convenience of LED or flameless candles, you can still achieve the same eerie ambiance without compromising safety.
DIY Skull Candle Holders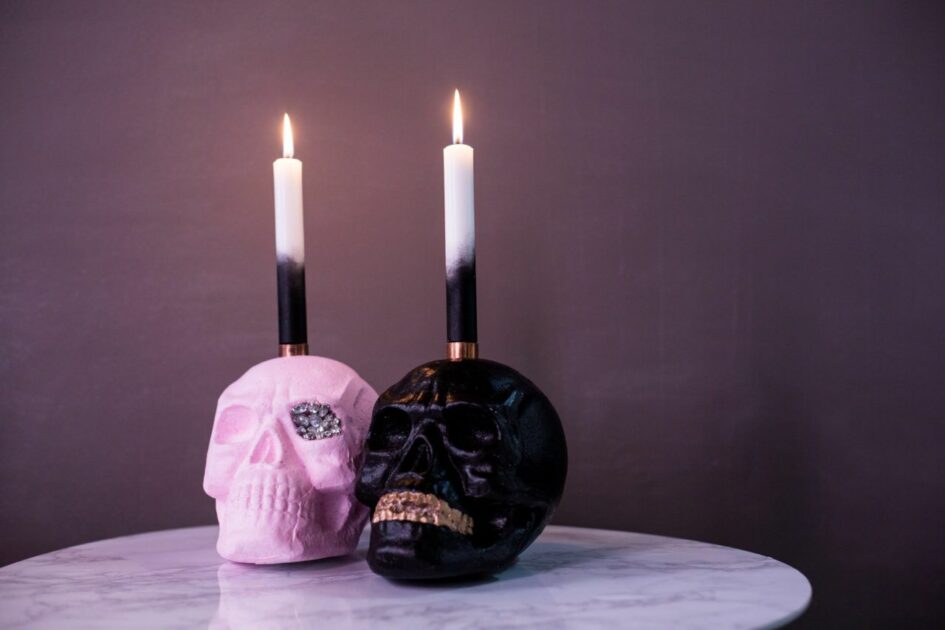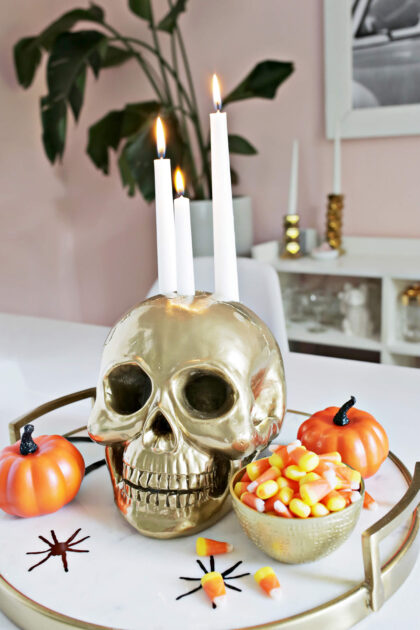 Conclusion
Skull candle holders are a great way to add a uniquely spooky ambiance to your Halloween party or event. With their impressive design and eerie flicker, they can give your decorations that extra special touch. Whether you go for something traditional, like black and white skulls, or something more creative and colorful, these candle decorations will undoubtedly stand out among the crowd. To make sure your guests are safe and you get the desired effect, just remember to think about placement, size, color, and safety when using skull candle holders in your decor – then all that's left is to enjoy! We hope you found this blog post useful – if so, be sure to leave us a review so we can help even more of our readers.